Pound Sentiment Is Now the Most Bullish in More Than Three Years
By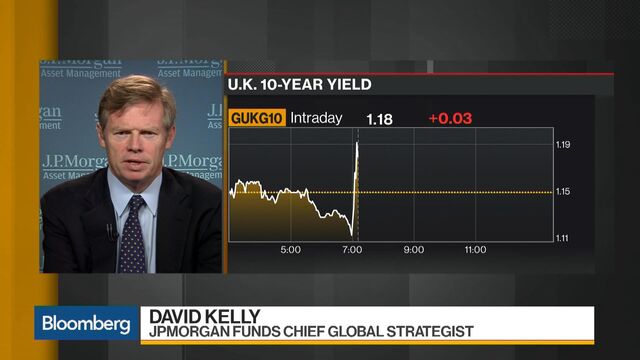 Currency traders haven't been this upbeat on the pound in more than three years.
The cost of owning one-month call options on sterling relative to puts reached six basis points, the steepest since February 2014, as the Bank of England said the market is underpricing the prospect of rate increases.
The premium on calls shows the market's conviction that the currency's more than 3 percent rally against the dollar this month has legs.

The key question on investors' minds at the moment is: where does the pound go from here? To some extent, the currency's fortunes against the dollar will be influenced by what the Federal Reserve does, and in this context next week's FOMC meeting will take on added significance. Witness also that stronger-than-estimated consumer-price inflation data out of the U.S. on Thursday failed to damp bullish sentiment for the pound. Should the Fed stay largely in line with market expectations, the pound could trade above $1.3429, the half-way point of its drop since Brexit day.
Regardless of the outlook for the U.S. economy, speculation that the Bank of England will move sooner rather than later on rates is likely to support the pound. The market now expects the central bank to raise the benchmark bank rate in February and has assigned about a 50 percent chance of a move as soon as in November.
Before it's here, it's on the Bloomberg Terminal.
LEARN MORE