Trump to Push Other Leaders on North Korea as UN Assembly Meets
By , , and
U.S. has no plans to seek more sanctions after latest test

President also plans to discuss Iran, crisis in Venezuela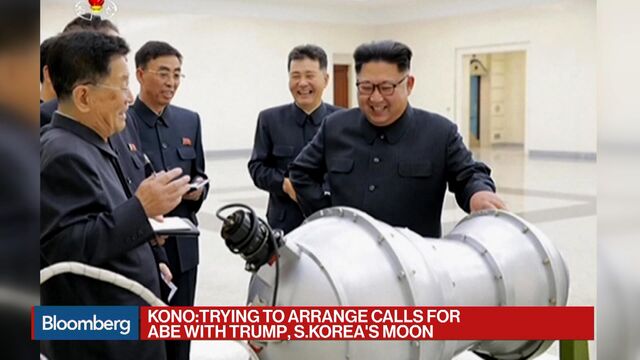 Follow @bpolitics for all the latest news, and sign up for our daily Balance of Power newsletter.
The U.S. won't push for more United Nations sanctions against North Korea when the General Assembly opens next week in New York, but President Donald Trump plans to urge individual world leaders to keep ratcheting up pressure on Kim Jong Un's regime, two top administration officials said.
The last two rounds of sanctions passed by the UN Security Council against North Korea need more time to have an impact on Kim and on his ability to continue development of nuclear bombs and intercontinental missiles, White House National Security Adviser H.R. McMaster and U.S. Ambassador to the UN Nikki Haley said Friday at a briefing.
Trump will meet with numerous other heads of state and government officials during his trip to New York, including leaders of Israel, Turkey, South Korea, Japan and Qatar. North Korea will be a major focus for the president, along with Iran's actions in the Middle East, they said.
"What's different about this approach is we're out of time," McMaster said about U.S. efforts to get Kim to abandon his weapons development. "We've been kicking the can down the road and we're out of road. And so for those who have said and have been commenting about the lack of a military option, there is a military option. Now it's not what we prefer to do."
The U.S. still views China and Russia as key to the diplomatic and economic effort to bring North Korea toward compliance with international demands to halt missile and bomb development. The U.S. keeps urging China to use its oil deliveries to North Korea as leverage to change the behavior of Kim's regime, but the Chinese remain reluctant.
U.S. Secretary of State Rex Tillerson reiterated a call for China and Russia to act against the rogue state, saying in a statement: "China supplies North Korea with most of its oil. Russia is the largest employer of North Korean forced labor."
Putin and Xi
Haley said the absence at the UN meeting of Russian President Vladimir Putin and Chinese President Xi Jinping won't prevent the U.S. from making progress.
Trump answered "No" to a shouted question about whether he's running out of diplomatic options on North Korea. He was leaving the White House on his way to a weekend at his golf club in Bedminster, New Jersey, before the UN meetings.
Haley said the U.S. agenda at the UN General Assembly is full, emphasizing efforts to "reform" the global body by cutting spending, including on ineffective peacekeeping programs. She also cited planned discussions on countering terrorism, the crisis in Venezuela and the refugee controversy in Myanmar.
"No one is going to grip and grin," Haley said. "The United States is going to work."
'Grave Dangers'
Along with meetings with other leaders over four days in New York, Trump will be making his first address to the General Assembly on Tuesday. He will "emphasize the need for states to promote peace and prosperity while upholding sovereignty," McMaster said. ''He will urge all states to come together to address grave dangers that threaten us all."
The latest missile tested by North Korea Friday morning in the region flew far enough to put the U.S. territory of Guam in range. The intermediate-range missile fired from Pyongyang at 6:57 a.m. on Friday flew over the northern Japanese island of Hokkaido, reaching an altitude of 770 kilometers (478 miles) before landing in the Pacific Ocean. It traveled 3,700 kilometers -- farther than the 3,400 kilometers from Pyongyang to Guam, which North Korea has repeatedly threatened.
A North Korean foreign ministry official told reporters at Beijing's international airport that Friday's launch was a "normal part of strengthening our nuclear deterrent," according to Japanese public broadcaster NHK. Choe Kang Il, deputy director general for North American affairs, said his nation wouldn't enter any negotiations unless the U.S. stops antagonizing his nation, NHK reported.
Unlike past instances, Trump hasn't directly addressed North Korea's latest missile test or responded to the inflammatory rhetoric from Pyongyang, leaving the official reaction to the State and Defense Departments.
South Korean President Moon Jae-in, while condemning the missile test, suggested to Japanese Prime Minister Shinzo Abe that the two countries refrain from overreacting to North Korea's provocations to avoid any accidental conflict, Moon's office said in a text message Friday. Moon said he "completely agrees" with Abe to firmly respond to the threats but the two countries should cooperate to manage the situation in a stable way to avoid "a possible accidental conflict," his office said.
— With assistance by Isabel Reynolds, Shoko Oda, Lily Nonomiya, Kiyotaka Matsuda, John McCluskey, Sam Kim, Chelsea Mes, Justin Sink, Heejin Kim, Seyoon Kim, Jonathan Annells, Min Jeong Lee, Shin Shoji, Emi Nobuhiro, Maiko Takahashi, Peter Martin, Kanga Kong, and David Tweed
Before it's here, it's on the Bloomberg Terminal.
LEARN MORE