Senator Only Paid for Private Jet Trips After a Reporter Asked About It, FBI Agent Says
By and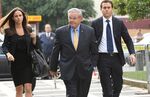 Senator Robert Menendez reimbursed a close friend for tens of thousands of dollars in private jet trips more than two years after the fact -- and only after the press started asking questions, an FBI agent testified in the New Jersey Democrat's corruption trial on Thursday.
Menendez and Salomon Melgen, the friend who provided the trips, are on trial in Newark, New Jersey federal court facing charges that the senator swapped official favors for luxury perks and hundreds of thousands of dollars in campaign contributions. Both men have pleaded not guilty.
FBI special agent Christina Cobb testified about a manila folder labeled "Sen. Robert Menendez" that she confiscated during a 2013 raid on the offices of Melgen, a Florida eye doctor. Inside were calculations of the cost of two round-trip flights in 2010. Menendez wrote a $58,500 check for those flights on Jan. 4, 2013 for $58,500. The Democratic Senatorial Campaign Committee separately reimbursed Melgen for some of Menendez's travel costs.
"How long after the flights did Robert Menendez write the checks?" prosecutor Amanda Vaughn asked. "About two and a half years," the FBI agent replied. The payments came several weeks after Menendez's office fielded questions about the flights from a Washington Post reporter, she testified.
Before it's here, it's on the Bloomberg Terminal.
LEARN MORE