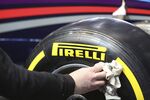 There's something unusual in the planned 9 billion euro ($10.8 billion) initial public offering of Formula One tiremaker Pirelli & C. SpA.
It's not the valuation, which would be in line with Nokian Renkaat Oyj, a Finnish peer, people familiar with the matter told Tommaso Ebhardt, Ruth David and Daniele Lepido of Bloomberg News. Nor is it the two years that Pirelli spent in private hands, or even the restructuring it underwent during that period to hive off its less-profitable industrial-tires business. Those are the sorts of things you'd expect to see in any private equity exit strategy.
The big difference is the seller: China National Chemical Corp., the state-owned behemoth that bought Pirelli in 2015 and last year carried out China's biggest-ever foreign takeover, of Swiss agrichemicals giant Syngenta AG. Such subsidiaries of China's State Council haven't traditionally followed the leveraged-buyout model, as ChemChina appears to be doing with Pirelli. Perhaps it's time they did.

Chinese state-owned enterprises have been active buyers of foreign assets in recent years, but they're rarely so busy on the sales front. Over the past decade, U.S. companies acquired $3.52 trillion in overseas businesses and sold $1.24 trillion, or about one-third. Chinese companies bought $1.17 trillion of assets and sold just $84 billion, or 7 percent.
The difference is largely down to the acquirers' motivations. U.S. suitors want assets for their cash flows and under-appreciated market value, and are happy to sell if a restructuring makes them worth more to new owners than existing ones. Chinese businesses are somewhat interested in returns, too, but to a greater extent they're following government policy -- in particular those venerable targets of "going out" and "reform and opening up."
The latter is illustrated most dramatically by HNA Group Co. 1 , a private company that has spent tens of billions of dollars on acquisitions but can't crack a return on invested capital above 2 percent. That's a remarkably unproductive way to run an economy, though.

China's privately held deal titans, now under the gun from Beijing because of heavy borrowing, showed the way to this buy-and-flip strategy. Dalian Wanda Group Co., the real estate and mall operator owned by Wang Jianlin, bought AMC Entertainment Holdings Inc., a U.S. theater chain, in May 2012. By December 2013, AMC was publicly traded in New York.
Fosun International Ltd. tried to list a U.S. property-casualty insurer, Ironshore Inc., months after buying it, but ended up selling the company on after one year. HNA bought Pactera Technology International Ltd., a Beijing-based information-technology outsourcing services provider, from Blackstone Group in October last year and appointed Goldman Sachs Group Inc. to underwrite an IPO, though Goldman halted work because the deal didn't meet internal compliance requirements.
ChemChina Chairman Ren Jianxin is the perfect person to lead this transformation. Along with SinoChem Group's Frank Ning, he's acquired a reputation as one of the most deal-hungry SOE executives, and the two companies are frequently named as potential merger partners.
It won't be clear whether Ren's gambit has succeeded until we see how much investors are prepared to pay for the new consumer-focused Pirelli -- and until we get a sense of how ChemChina's Shanghai-listed Aeolus Tyre Co. affiliate is integrating Pirelli's industrial units. Still, the turnaround is running two years ahead of the four-year schedule envisaged at the time of the acquisition.
What other opportunities are there for a more buy-and-sell-oriented China Inc? ChemChina always said it would float Syngenta when the time was right, as well as Adama Agricultural Solutions Ltd., an Israeli crop-protection company it bought last year. There could be a DowDuPont Inc.-style opportunity to create more focused businesses out of that agglomeration.
China Investment Corp., the country's sovereign wealth fund, has acquired stakes in a suite of midstream energy assets including the gas-distribution business of the U.K.'s National Grid Plc; an Australian coal railroad company, Asciano Ltd.; and Petroleo Brasiliero SA's gas network.
HNA bought linchpin assets in the world's transport, tourism and logistics industries that might cross-fertilize, should banks' newfound leeriness about rolling over its loans leave it needing to raise some quick cash.
This should be welcomed. China's outbound M&A wave was a boon for investment bankers worldwide, but the art of capitalism lies less in carrying out deals than in running businesses. If a more entrepreneurial culture is treating acquisitions as investments to be sweated rather than trophies to be polished, so much the better for the world.
HNA isn't a state-owned company, though its beneficial ownership is murky. In China, where large private enterprises often have Communist Party committees sitting alongside management, it's hard to draw a bright red line between state-owned and privately owned.
Before it's here, it's on the Bloomberg Terminal.
LEARN MORE