Carney's Long-Awaited BOE Rate Increase May Finally Arrive
By , , and
Majority of MPC says reduction in stimulus may be needed

Brexit means 'considerable risks' to economic outlook remain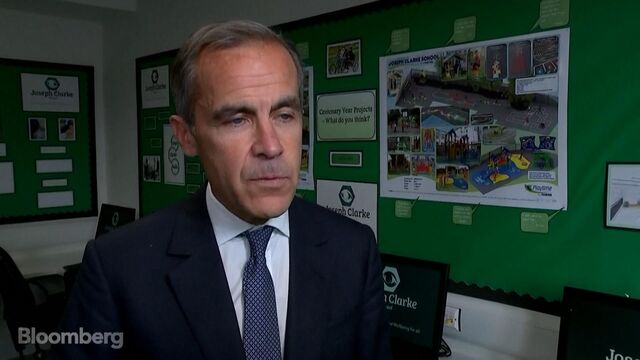 The Bank of England may be finally ready to deliver an interest-rate increase.
After false dawns sparked by Mark Carney in 2014 and 2015, a growing swell of BOE policy makers are now leaning more heavily toward the idea that tightening will be needed very soon. That's got investors putting their money on action as soon as the next meeting in November.

Carney confirmed on Thursday that he's among the majority of officials who see a need for tightening very soon. While the economy is under a cloud from Brexit, inflation is accelerating and the labor market is tightening. That should, at some point, spark the faster pay gains policy makers are looking for.
The BOE says it's already seeing some signs of a modest pickup in wage growth, and that could build after Prime Minister Theresa May said she'll relax a cap on some public-sector increases.
According to minutes of the BOE's latest meeting, a majority of its nine policy makers judged that "some withdrawal of monetary stimulus was likely to be appropriate over the coming months in order to return inflation sustainably to target" if the economy develops as they anticipate.
While no additional members of the Monetary Policy Committee opted to join dissenters Ian McCafferty and Michael Saunders in calling for an immediate increase, that tone has got some investors reconsidering their expectations.
"We were caught slightly by surprise," said Philip Shaw, an economist at Investec. The phrase "coming months" is "a new and very notable addition to the conclusions the committee's reached. And there is a clear warning there that rates could rise next time."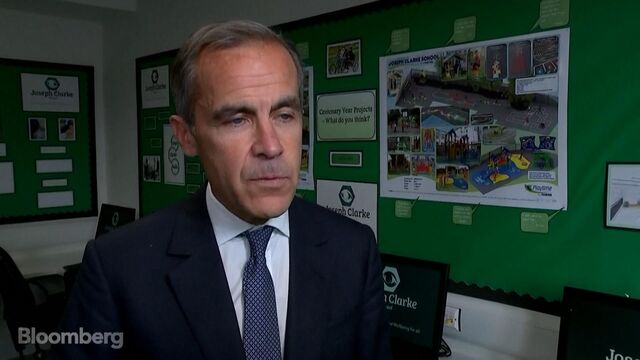 It's been over a decade since the BOE last raised rates. Policy makers cut aggressively to deal with the recession after the financial crisis -- as well as starting QE -- and then loosened further in 2016 in response to the U.K.'s decision to leave the EU.
False Dawns
At that time, the central bank cited plunging confidence indicators and the need to protect jobs to justify its actions. But though growth has slowed this year, the impact hasn't been as catastrophic as many believed, and expansion is forecast to remain relatively steady -- albeit sluggish -- into 2018.
Carney has failed to deliver on rate increases in the past. In June 2014, he said that rates could rise sooner than markets expected, and in 2015 he told lawmakers that a hike was moving closer. Ultimately, the bank's next move was to loosen policy after the Brexit vote last year.
The economic backdrop is different now, with price growth on the up and unemployment at a 42-year low. The BOE said it may have been too gloomy in its last projections in August, and that spare capacity in the economy may be absorbed faster than anticipated. It also said inflation will climb above 3 percent in October, adding to the case for tightening.
Even so, policy makers warned that considerable risks remain to the outlook, especially as lawmakers continue their so-far fractious negotiations to leave the European Union.
The uncertainty may not be sufficient to stay the BOE's hand though. By one measure, the odds on a hike by November have risen to more than 60 percent from 40 percent earlier on Thursday. A hike is fully priced in for February 2018.
"There a lot of reasons, when you look at this set of minutes, that suggest that they are teeing the market up," said Nomura economist George Buckley, who was predicting an increase at the BOE's next meeting even before Thursday's comments. "The market cannot complain any more that it was surprised if the BOE do raise rates in November."
Before it's here, it's on the Bloomberg Terminal.
LEARN MORE