Anthony Weiner Blames Legal Woes on Untreated Addiction, Victim
By and
Weiner admitted sending explicit messages to 15-year-old girl

Investigation of ex-congressman affected presidential campaign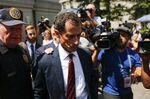 Anthony Weiner, the former congressman and New York mayoral candidate whose career and personal life were wrecked in a series of sexting scandals, blamed a "deep sickness" combined with the "profit-seeking curiosity" of his 15-year-old victim for his legal troubles, as he asked a judge for leniency when he's sentenced later this month.
Weiner pleaded guilty in May to sending sexually explicit messages to the North Carolina girl, admitting to a single criminal count of transmitting obscene material to a minor. The guilty plea capped a stunning downfall that played a major role in the final days of the 2016 presidential election.
The high-school girl, referred to only as "Jane Doe," or "JD," contacted Weiner in hopes of selling her story to a publisher and influencing the presidential election, lawyers for Weiner said in a court filing late Wednesday.
"JD first contacted Anthony on Twitter on the night of January 23rd, announcing herself as a 'huge fan,"' they said in the filing. "Unbeknownst to Anthony, JD was looking for material for a book -- one she has now written and is shopping to publishers."
Weiner asked the judge for probation and community service. Even as the lawyers recounted the girl's role in encouraging Weiner to participate in the explicit message exchange, they said in the court filing that Weiner "never should have responded" and he doesn't treat the circumstances "as a justification." Weiner himself apologized to her in a letter to the court.
Weiner faces as much as 10 years in prison when he's sentenced Sept. 25. As part of a plea deal, prosecutors will seek a term of 21 months to 27 months, which isn't binding on the sentencing judge. Weiner must register as a sex offender and will forfeit his iPhone.
An FBI investigation into Weiner's sexually explicit messages turned up emails that had been sent to his wife, Huma Abedin, then a top aide to Democratic presidential candidate Hillary Clinton.
Abedin wrote one of about 45 letters submitted to the sentencing judge, from politicians, family and other sex addicts, in support of Weiner.
"This is not a letter I ever imagined I would write, but, with Anthony, I have repeatedly found myself in circumstances I never imagined," Abedin wrote in her letter, the public version of which was heavily redacted. "I am devastated by Anthony's actions, and I understand he must face their consequences."
FBI Inquiry
As part of the FBI investigation, agents seized Weiner's laptop computer, which had emails to Abedin, a senior adviser to Clinton's presidential campaign. On Oct. 28, former FBI Director James Comey sent a letter informing Congress that agents were reviewing the emails "to determine whether they contain classified information" relevant to a separate investigation of Clinton's use of a private email server while Secretary of State.
On Nov. 6, two days before the election, Comey sent a second letter to Congress saying the FBI had reviewed the emails on Weiner's laptop. "Based on our review, we have not changed our conclusions" not to recommend criminal charges against Clinton, Comey wrote. Clinton, whose book on the campaign, "What Happened," came out this week, attributes some blame to Comey for helping cost her the election to Donald Trump.
Weiner "has already been punished in a meaningful way by the government, just not in a judicially sanctioned manner," his lawyers wrote in the memo. "What was supposed to be a confidential grand jury investigation into a personal offense was leaked by 'law enforcement sources' and then improperly injected into the presidential election by the then-FBI director."
Separately Wednesday, Weiner and Abedin appeared together briefly in state court in Manhattan in their divorce case. The judge overseeing the case encouraged the pair to try to reach an amicable resolution.
"In sum, a term of imprisonment would bring Anthony's indisputably successful treatment for the sickness underlying his crime to an immediate and complete halt, and separate Anthony from the son who has motivated his recovery," his attorneys wrote in the sentencing memo.
"Given the unusual circumstances of this offense and the ability of a sentence without incarceration to impose just and meaningful punishment while permitting continued treatment, a non-incarceratory sentence of the kind proposed above would be 'sufficient but not greater than necessary' to satisfy the goals of sentencing."
The case is U.S. v. Weiner, 17-cr-00307, U.S. District Court, Southern District of New York (Manhattan).
Before it's here, it's on the Bloomberg Terminal.
LEARN MORE