Economics
With Crisis Fading, EU Chief Juncker Projects Renewed Confidence
"The wind is back in Europe's sails."
By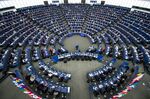 The last time European Union President Jean-Claude Juncker delivered his annual State of the Union address, the union's state appeared undeniably tattered: Britain had just voted to Brexit and populist anti-EU parties were surging. Viewed from today, those concerns seem so, well, 2016.
The union appears to have the upper hand in negotiations with the U.K. over its departure, and the threat of populism has receded, so this year's speech conveyed a renewed level of confidence and optimism.
In Strasbourg on Wednesday, Juncker portrayed the 28-member bloc as a bastion of stability in a fractured world, saying the union should assume an enhanced global leadership role as the U.S. steps back from the trans-Atlantic relationship.
"The wind is back in Europe's sails," Juncker, who leads the European Union's executive arm, told members of the European Parliament and other dignitaries. "We now have a window of opportunity, but it will not stay open forever. Let's make the most of the momentum."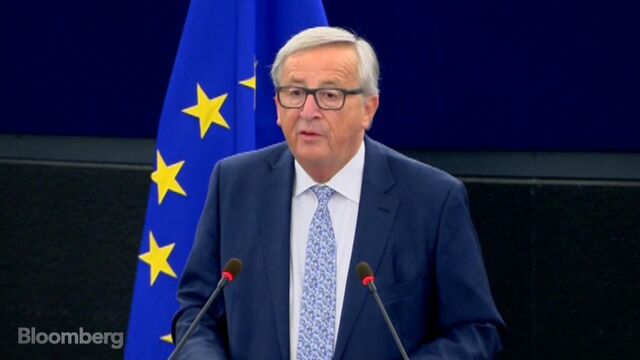 Those winds have gained in strength as German Chancellor Angela Merkel looks set for a fourth term and the victory by Emmanuel Macron in France offset a string of losses for nationalist parties. In the same address a year ago, Juncker warned of "galloping populism" and defended the very idea of European integration begun in the 1950s to avoid a repeat of devastating wars on the continent.
In a bid to enhance the EU's global role, Juncker said he would ask governments for the authority to begin market-opening negotiations with Australia and New Zealand. This comes on the heels of a provisional free-trade accord with Japan and a week before a European deal with Canada enters into force.
He proposed an EU framework to screen foreign investments in Europe when concerns arise about unfair competition, particularly in strategic industries. A divisive issue among EU governments that could take years to negotiate, the measure is a political reward for Macron after he defeated far-right challenger Marine Le Pen.
European leaders have a "political responsibility to know what is happening here in order to be able, if we need, to protect our collective security," Juncker said.
Juncker also struck a hard line on a growing rift between eastern and western member states over democratic standards. He alluded to an ongoing dispute with Poland, which is subject to the commission's first-ever probe of an EU country over the rule of law because of concern that the governing Law & Justice party is undermining judicial independence. The inquiry includes a threat to strip the Polish government of its EU voting rights.
"In Europe, law has muscle," Juncker said. "That means that, in Europe, the law is safeguarded by an independent judiciary."
Other overhauls Juncker proposed include:
Creation of a European finance and economy minister
Election of a single EU President, merging the roles of European Council president and European Commission president
Creation of a European cybersecurity agency and an EU labor authority
Common standards for consumer products sold across the EU
Including Bulgaria and Romania in the Schengen area of free movement 
"Europe can deliver for its citizens when and where it matters," Juncker said. "We've been slowly but surely gathering momentum."
— With assistance by Richard Bravo
Before it's here, it's on the Bloomberg Terminal.
LEARN MORE