Theresa May's Snap Election Cost Taxpayers 141 Million Pounds
By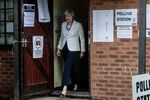 U.K. Prime Minister Theresa May's gamble to call a surprise election came at a huge political price. But that wasn't the only cost.
Figures published on Wednesday show the election cost the country 141 million pounds ($186 million): running the poll itself was a shade over 98 million pounds, while another 42.5 million pounds was spent on posting electoral mailshots to voters. Based on a starting salary of 23,000 pounds, the total amount is enough to pay a year's salary for more than 6,000 nurses.
Even so, the running costs of the vote pale in comparison with the political repercussions. Stripped of her parliamentary majority, May was forced to offer 1 billion pounds in additional funding to Northern Ireland to secure the support of the Democratic Unionist Party.
May was forced to accept a non-binding motion in Parliament calling on the government to end pay caps in the National Health Service, which was passed on Wednesday without a vote. That increases the pressure on Chancellor of the Exchequer Philip Hammond to loosen the purse strings for public sector workers in November's budget announcement.
Before it's here, it's on the Bloomberg Terminal.
LEARN MORE