Politics
There's Trouble Brewing in Putin's Heartland
With oil prices down, discontent over the economy is growing.
By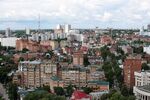 During Russia's oil-fueled boom, Rashid Tamayev saw steady pay raises at his auto factory job, helping keep his family in relative comfort—and making him a loyal supporter of President Vladimir Putin. But since a plunge in oil prices three years ago, Tamayev has lost faith in the president. Last spring he and dozens of others at the Ulyanovsk Automobile Plant lodged an appeal with the Kremlin when they were fired after pointing out safety problems. They got no answer. "Putin has forgotten about ordinary people," Tamayev says as he watches workers from the factory leave after their shifts. "We used to live well."

As Putin prepares to run for a fourth term in elections next March, the plight of his working-class base across the Russian heartland is emerging as a top domestic challenge. He's almost certain to win, thanks to the Kremlin's grip on the media and political life, but the discontent threatens Putin's popularity as the economy continues to sputter. After the longest recession in his 17-year rule, real incomes have fallen 12 percent over the past three years, sparking protests in areas that provided solid backing for Putin in 2012. While demonstrations around the last elections were limited largely to Moscow, this year tens of thousands of people have marched in anti-Kremlin protests in dozens of cities. Russians "are losing patience," Valery Fyodorov, the head of state-run pollster VTsIOM, said in August. "People don't want stability anymore. They want change."
The government is moving fast to ensure the simmering unrest doesn't grow into something more dangerous. This year's budget—under pressure because of low oil prices—calls for increases in social spending and cuts in defense. In June, during Putin's annual call-in show with carefully selected "ordinary Russians," the president pledged to address complaints about inadequate pensions, dilapidated public housing, and substandard health care. An "alarming" rise in poverty in recent years "is a matter of serious concern," he said at the start of the four-hour broadcast.

A nascent economic recovery and falling inflation seem to be taking the edge off popular dissatisfaction. Two-thirds of Russians say they want to see Putin reelected, according to a July poll from the independent Levada Center. But even if growth meets government forecasts of 2 percent this year, that's far below the 7 percent average seen in Putin's first two terms. "There's a sense of grievance at the gap between rich and poor, Moscow and the regions," says Carine Clement, a sociology professor at St. Petersburg State University. "People blame the elites."
In Ulyanovsk, a gritty industrial city 550 miles east of Moscow that's been in decline since Soviet times, hundreds turned out for antigovernment protests this spring. Roads in the city of 600,000 are scarred with potholes, stores on the outskirts are almost empty and advertise steep discounts, and the most famous landmark—a house where Lenin spent his childhood—looks forlorn and mostly devoid of visitors.
The discontent surfaced in elections last September, when the local communist leader, Alexey Kurinny, got a quarter of the vote for regional governor, almost clinching a spot in a runoff against the pro-Putin incumbent. Kurinny, a member of the national parliament in Moscow, has since taken up the cause of Tamayev and other workers at the auto factory, where one employee lost four fingers when his hand was crushed by a pressing machine. "You can't live" on the salaries the factory pays, Kurinny says. "Not if you have mouths to feed."

Plant workers who have organized protests seeking higher wages to offset inflation won't speak publicly for fear of reprisal. Dmitry Shestakov, a 37-year-old businessman who runs the campaign office in Ulyanovsk for Alexey Navalny, an opposition candidate for the presidency, says the tax service recently asked him for his landlord's name and address. A few weeks before Shestakov opened the office in May, the local antiterrorism center called him in for questioning and warned him he may become the target of an attack. "You start to get a little paranoid," he says.
Management at the plant, which makes an off-road vehicle called the Patriot, dismisses the complaints of angry employees like Tamayev. "You can always find 15 disgruntled people in a workforce of 15,000," says financial director Mikhail Belobrov. Viktor Bychkov, the head of the plant's main trade union, is equally unsympathetic. "You can't expect to get raises for nothing," he says.
Tamayev, 45, at first put his faith in Putin, even submitting a question for the call-in show. But in August, a court issued a second ruling against him in his bid to get his job back. Tamayev says he lost an offer as a technician at a clinic with a monthly salary of up to 40,000 rubles ($660)—slightly less than he was getting at the auto plant—after management failed to provide a reference. He now makes half that at another car factory in town, but vows he'll keep fighting to get back the job he held for 23 years. And he won't be voting for Putin. The president, he says, "is useless." —With Olga Tanas
BOTTOM LINE -
Putin's working-class base is suffering after a prolonged recession, presenting him with a challenge as he prepares for elections next March.
Before it's here, it's on the Bloomberg Terminal.
LEARN MORE