The U.S. Escaped Apple Watch's European Carrier Restrictions
Rebecca Penty, Nate Lanxon and Stefan Nicola
Multiple European countries have one network for the device

All four major U.S. wireless operators to offer 4G watch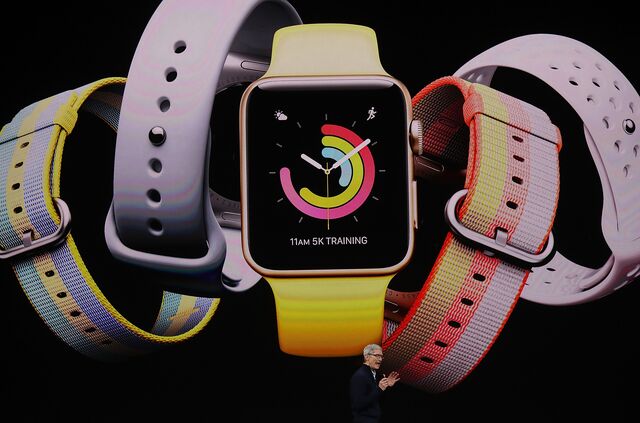 Germany's Deutsche Telekom AG, BT Group Plc's EE in the U.K. and France's Orange SA are the only carriers in their countries to offer Apple Inc.'s new smartwatch, giving them an edge over competitors.
It's the opposite experience for consumers in the U.S., where all four major American carriers will offer the LTE-enabled Apple Watch Series 3. 
The device, which has an embedded cellular radio that lets users talk, text and stream music without a phone nearby, is an innovation fantasized about since Dick Tracy's famous wrist radio hit TV screens. The limited network support could create headaches for some Apple aficionados, threatening customer departures from carriers that don't accommodate the new technology.
"I'm surprised that in the U.K. in particular, we haven't seen more carriers offering the watch," given the prevalence of Apple products in Britain, said James Ratzer, an analyst at New Street Research in London. In both the U.S. and the U.K., the iPhone accounts for 37 percent of smartphone sales, he said, citing Kantar Worldpanel data.
Not Exclusive
The situation is reminiscent of the original iPhone, which in 2007 was available only with Telefonica SA's O2 in the U.K. for two years. 
However, Apple hasn't signed exclusive deals with networks this time. Instead, the carriers offering the new watch are those that agreed to upgrade their networks to support the technology first. Other operators are not contractually blocked from adding the new device to their systems and more are expected to, in the future.
While Vodafone Group Plc believes in the wearables product category and will pursue future deployments, it has no plans to sell the watch, except in Australia through its joint venture with CK Hutchison Holdings Ltd., a company spokesman said in a statement. An O2 spokesman said that while the company isn't selling the watch from its launch, it continues to review its range of products and services.
"We'll have to see how it plays out in the market," Vodafone U.K. Chief Executive Officer Nick Jeffery said in an interview. It's too early to know how the device will resonate with consumers, he said.
New Product
Apple CEO Tim Cook introduced the Apple Watch in September 2014, banking on the product being the company's next big category. So far, it's mostly been an accessory to the iPhone. The new cellular feature has the potential to be a "game changer," according to Kepler Cheuvreux analyst John Cox. Cook said recently that the device was the best-selling smartwatch "by a very wide margin," while noting sales grew more than 50 percent in the third quarter.
It took EE three years to add the technology to its network needed to seamlessly link an iPhone with an Apple Watch, allowing a customer to share one number, apps and other services across both devices regardless of their proximity to one another, EE CEO Marc Allera said in a statement.
"This breakthrough functionality isn't a one off," Allera said. "It's the beginning of a hugely important development, start of an exciting new chapter of products and services where networks, devices, calls and content will be seamlessly linked, shared and controlled centrally by you."
Lower Penetration
In continental Europe, the lower penetration of iPhones may explain why carriers aren't jostling to offer the watch, Ratzer said. In France, for example, iPhones only account for 21 percent of the smartphone market, while in Spain it's an eight percent share, he said, citing the Kantar data.
Owners won't be able to put their existing SIM card into the watch, as it has its chip soldered to the inside of the device. Apple has been using its own SIM components for a number of years, such as inside 4G iPad models that allow owners to dynamically sign up to and change cellular data plans. But this is new territory for the company that lets it hold an even tighter control over which networks the timepiece will work with.
The watch is one of the earliest of its kind to have 4G connectivity, but it's not the first -- Samsung Electronics Co.'s Gear S3 incorporated cellular connectivity when it launched in August last year. Apple also sells the Apple Watch Series 3 without the cellular feature, which would work with iPhones on all carriers, but as with previous models would require the phone to be nearby to make calls.
Carriers offering access to the watch are typically charging a monthly fee, which may undermine their ability to acquire customers from their rivals, said Ian Fogg, senior director of mobile and telecom at IHS Markit. It's also unclear how popular the cellular version will be with consumers right away, given its main use case is for when someone isn't carrying their phone and Apple has sacrificed adding other new features to include the cellular functionality, he said.
"It's a really impressive technical achievement, but it's uncertain if demand for the consumer will be there," Fogg said. "Over the long term, we think smart watches will have cellular as a standard."
— With assistance by Alexandre Boksenbaum-Granier, and Matthew Miller
Before it's here, it's on the Bloomberg Terminal.
LEARN MORE