markets
Dartmouth Gains 14.6% as Ivy League Endowment Value Hits Record
By
New Hampshire-based college fund rose to nearly $5 billion

Dartmouth is first Ivy League school to report for fiscal 2017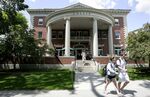 Dartmouth College's endowment reported a 14.6 percent gain, making it the first Ivy League school to release investment results for fiscal 2017.
The fund's value rose 10.2 percent to a record $4.96 billion in the 12 months through June, the New Hampshire-based school said Wednesday in a statement on its website. Dartmouth's performance was boosted by strong equity markets in the U.S. and abroad, according to the statement.
"We are pleased with these results," Alice Ruth, the school's chief investment officer who was hired in March, wrote. "Dartmouth's outstanding returns are a direct result of partnerships with world-class managers, which bring breadth and depth to the portfolio in service of Dartmouth's mission."
The increase reflects a $630 million investment gain and $225 million distribution to Dartmouth's operating budget, according to the statement. The endowment payout accounts for more than a quarter of the school's total net operating revenue for fiscal year 2017. The fund's 10-year return is an annualized 6.4 percent.
College funds with more than $500 million had a median investment gain of 13.3 percent, while endowments of all sizes returned 11.3 percent in the 12 months through June 30, according to Wilshire Trust Universe Comparison Service.
Before it's here, it's on the Bloomberg Terminal.
LEARN MORE