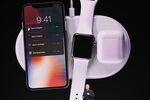 Apple Inc.'s long-awaited release of three new iPhone models has many would-be consumers pondering whether to go all-in with $999 for the iPhone X or settle for the lesser iPhone 8 or iPhone 8 Plus.
With the cheapest option coming in at $699, Apple has left swathes of customers in emerging markets wondering whether they'll bother with a new iPhone at all.
Gadfly's Shira Ovide made the case this week that the real task is to get existing users to upgrade, and noted that the iPhone's escalating price isn't really new anyway. For most of the past decade, Apple managed to push past both challenges to keep sales and average prices climbing. (Except for last year, when many consumers couldn't stomach the price vs. product trade-off and opted for Android instead.)

A chief pain point was China, which suffered a 16 percent drop in unit sales last year, according to Counterpoint Research. 1  That market remains one of the iPhone maker's most important, yet this great weight puts Cupertino at the mercy of consumers whose taste for Apple is starting to sour. There are just too many low-priced and well-designed Android alternatives available for even a rose-gold iPhone to stand out from the crowd.

So when Tim Cook got back on stage at the new Steve Jobs Theater on Tuesday to unveil Apple's obligatory "One More Thing," he offered a crowd-pleasing device aimed at rich loyalists.
No doubt millions of Chinese consumers will be among those who fork out 10 Ben Franklins to look cool, but Apple needs to be hunting not for millions of consumers, but for tens of millions -- including those who simply can't afford a king's ransom for a smartphone. And a price range of $699 to $1,149 won't do much to help the company hit 10 million units in India, where sales climbed to just 2.9 million last year. 2
From a short-term financial perspective, Apple doesn't need to cut prices and chase volume. Shira's column used analysis by Bernstein's Toni Sacconaghi to estimate that a $10 increase in the average selling price results in about $723 million of additional profit.
However, there's one reason to cut prices even when the extraordinary price inelasticity of iPhone demand argues against it: the user base.
China and India have more than 2 billion people between them, rising incomes and massive potential for smartphone uptake, so Apple needs to give them an iPhone habit before Android becomes the irreversible default. 3
We all know that consumers aren't just buying a device, but a platform. Once locked in to Android or iOS, the friction to swap is so acute that most people stay where they are -- even if that means holding off on an upgrade until they can afford it. If 81 percent of sales come from existing customers, Apple needs to ensure that user base keeps expanding.
I've written previously about why the iPhone 5c failed -- it was launched at the same time as the 5s, making it look comparatively cheap and unattractive. By contrast, the later iPhone SE was a smart move, because that was a mid-cycle introduction that could be viewed as "the latest device" while still being competitively priced for emerging markets.
Apple paid lip service to its SE consumers Tuesday when it cut the price by $50 without offering any real reason to buy an 18-month-old device (itself a rehash of the iPhone 6s). 
Apple ignoring emerging-market consumers this week portends another mid-cycle launch next year. To be clear: While I've broken many iPhone stories, I have no information suggesting that such a device is in the works. If it were coming, that may not be enough anyway, because ad-hoc offerings probably won't be an effective means of building an annual iPhone buying habit in India, China or markets like Indonesia (population 260 million).
There are good reasons why Apple is loath to make low-priced devices a staple of its lineup. But with the latest iPhones out of reach of huge portions of the emerging smartphone population, Tim Cook needs to offer these customers One More Thing.
Before it's here, it's on the Bloomberg Terminal.
LEARN MORE