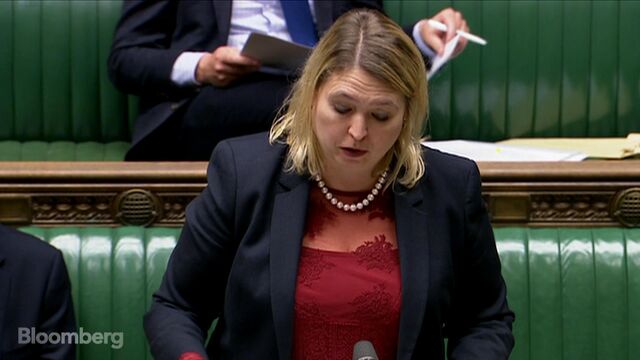 Rupert Murdoch's 11.7 billion-pound ($15.2 billion) bid to buy the rest of Sky Plc is set to face a longer and deeper probe, six years after a previous attempt was sunk by a phone-hacking scandal. U.K. Culture Secretary Karen Bradley said Tuesday she is inclined to ask the Competition and Markets Authority to conduct a months-long investigation into Fox's commitment to broadcasting standards, in addition to the widely expected review over whether the deal would give the Murdochs too much influence over U.K. media.
1. Was that a surprise?
The scope of the planned CMA referral surprised investors, given Bradley had initially said she was inclined to confine the review to questions of media influence. Shares of Sky fell 1.6 percent after dropping as much as 5.1 percent, the biggest drop since the U.K.'s June 2016 vote to leave the European Union. The CMA's probe into Sky, which is 39 percent owned by Fox, could last up to six months.
2. Why is the deal behind schedule?
Fox had said it expects it to complete the deal by June 2018, after initially saying it would be done by the end of this year. The biggest delay was caused by Prime Minister Theresa May losing her parliamentary majority in June's election. That set the process back at least a month and has forced Bradley to tread with more care in handling the merger. The bid's opponents have had success in slowing progress in other ways. Activists and anti-Murdoch politicians flooded Bradley with criticism of Ofcom's initial report and threatened her with legal challenges if she didn't call for a comprehensive CMA investigation.
3. Haven't regulators already reviewed the bid?

Ofcom did a preliminary investigation of the deal earlier this year and reported its findings to Bradley. That review raised concerns about the merger's impact on media plurality and recommended Bradley seek a further probe on that issue, but cleared Fox on its commitment to broadcasting standards. Ofcom also said Sky would continue to be a "fit and proper" holder of broadcasting licenses after the merger.
4. What would be different this time?

The CMA has the infrastructure to do a much more thorough study than Ofcom's. It would likely entail hearings with Fox and Sky executives, as well as harvesting huge amounts of data from the companies, their rivals and industry bodies. It would appoint a panel of experienced competition lawyers and industry grandees who would give their recommendation to Bradley. If the investigation needs longer than six months, the watchdog has the power to prolong it for a further eight weeks. 
5. What weight would the CMA's conclusions carry?
The outcome of its investigation would be advisory only, but Bradley has indicated the government will follow the advice of the independent regulators.
6. What's the case against the deal?
Critics such as former U.K. Labour Party leader Ed Miliband say it would give Murdoch's family too much media influence. Murdoch is co-chairman of Fox and executive chairman of News Corp., which owns the Times, the Sunday Times and the Sun, the U.K.'s second-most-read newspaper. His son James is chief executive officer of Fox and chairman of Sky, whose Sky News is the third-most-used news source across all platforms in the U.K., Bradley said. On broadcasting standards, opponents point to recent revelations of alleged misconduct at Fox News while insisting that the phone hacking at News International, a former division of News Corp., and ongoing civil cases against some of its newspapers raise questions about the suitability of the Murdochs to have increased control over Sky. (Murdoch pulled the last deal, in 2011, in response to the revelations that journalists at his News of the World tabloid hacked into the voice-mail messages of a murdered schoolgirl.) While neither News Corp., Fox nor the Murdochs were ever charged in relation to the hacking, Bradley has flagged concerns over "serious" corporate governance failings.
7. What's the case for letting it go through?
Fox argues that it no longer holds any newspaper assets, following a 2013 restructuring that placed the titles in News Corp., a separate company, the majority of whose shareholders and board members are independent. Fox also argues that media plurality has increased since it last tried to buy Sky, driven by increased news consumption through social media. In 2012, News Corp. revamped its ethics program and brought in a new general counsel, Gerson Zweifach, and appointed John McCoy and Brian Michael as executives to focus on compliance. All three are now with Fox. Compliance by Sky and Fox with the U.K.'s broadcasting code is also similar to that of comparable broadcasters, Ofcom said in June.
8. Why does Murdoch still want the deal?
He has long coveted full ownership of Sky, having founded Sky Television in 1989 before reducing his stake to 39 percent in 1994. The deal would give him control of one of the most powerful pay-TV distribution platforms in Europe. A tie-up would also broaden Fox's revenue streams, increase its geographic diversity and bolster its portfolio of drama and sports content.
9. How has Fox responded to the regulators so far?
In a bid to avoid the CMA review and given Ofcom's concerns about media plurality, Fox offered concessions to safeguard the independence of Sky News. These included measures such as creating a separate editorial board and committing to current levels of investment in the channel for at least five years. Ofcom said these proposals mitigated its concerns, though they could be stronger, and Bradley said she was minded not to accept the concessions. Fox declined the opportunity to improve its offer, a move said to be motivated by a bet that the CMA would look more favorably on its undertakings and that Bradley had little political latitude to do anything other than refer the deal to the regulator.
The Reference Shelf

Before it's here, it's on the Bloomberg Terminal.
LEARN MORE