Remarks
Thank Economic Growth for Germany's Boring Elections
Globalism seems to be working, and that's helping to keep extremist parties at bay.
By , , and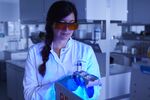 To reach gluemaker Delo Industrie Klebstoffe GmbH, you drive an hour from Munich, past villages with onion-domed churches and the Ammersee, a cobalt-blue lake with views of the Alps, before turning into offices nestled between a cornfield and a grove of beech trees—hardly the kind of place you'd expect to find a global leader in its industry.
Yet one of Delo's adhesives is used in 80 percent of the world's smart cards, and its customers are spread across Europe, the U.S., and Asia. That success is testament to Germany's commitment to globalism—now a dirty word in some countries—and helps explain a political puzzle: How, in 2017, can Europe's biggest economy have a normal, even boring, election while crusading populists have upended the political order elsewhere? "Other countries haven't had the stability we've enjoyed," says Delo Managing Partner Sabine Herold. "It's a mistake to believe that you can save your castle by building more walls."

When Germans vote on Sept. 24, they're likely to back the same pair of centrist parties that have run the country since World War II, selling pretty much the same policies and messages they've advocated for decades. Neither side has made Trump-style appeals to restrict trade or pare back globalization. They haven't even bashed the European Union. Chancellor Angela Merkel, the sensible shoes of global politics, is all but certain to win a fourth term by pledging to, well, keep things more or less the way they are. When Germans look at countries that have elected populists, they get scared back toward the political center, says Christina Tillmann, a political analyst at the Bertelsmann Institute, a think tank. And then there's the country's history: "The whole appeal of a nationalist ideal," Tillmann says, "just doesn't resonate very well here."

Merkel's longevity is doubtless due to her skills as a politician, but it's also because most Germans recognize they're globalization's winners. Germany has thousands of midsize, family-owned enterprises like Delo—what they call the Mittelstand—spread across the country, distributing wealth rather than concentrating it in a few cities. And employees typically feel they have a share in a company's success. Delo, for instance, doesn't use any temporary staff, so everyone from janitors to research scientists is a full employee. Delo's adhesives, which can top €3,000 ($3,600) for a container the size of a soda can, are all made at the company's factory outside Munich. And as a private company, Delo can prioritize long-term growth—its sales have more than tripled in the past decade—over short-term profits. That glue for credit cards? It took seven years to develop. "A big company would have axed the project long ago," says Herold, an engineer who in 1997 took over the company with her husband.
Successive German governments have nurtured the Mittelstand, which supplies the world with everything from tiny screws that penetrate concrete, to automated ovens for grilling 400 chickens at a time, to tunnel-boring machines as long as oil tankers. The sector's strength helped bring unemployment down to 5.7 percent in July, from almost 12 percent in 2005. Industry still accounts for more than a quarter of German jobs, a level not seen in the U.S. since 1984, the World Bank says. About 1,500 Mittelstand companies are leaders in their niches, vs. only about 300 in the U.S., says Carsten Linnemann, a lawmaker with Merkel's Christian Democratic Union and head of the party's group that coordinates relations with the Mittelstand. "Most Germans know that they profit from trade," he says.
Although the U.S. has also been a winner from globalization, the wealth has flowed mostly to the top, fostering resentment and the rise of figures such as Donald Trump. In Germany, where exports account for 46 percent of the economy, quadruple the U.S. level, stressing the benefits of globalization plays well with the electorate. A recent study by the Bertelsmann Institute found that calls to overthrow the political elite or erect trade barriers alienate German voters. Merkel isn't shy about her fondness for free trade, and she frequently praises the Mittelstand in campaign stops. On Sept. 1 she dropped in at the annual meeting of a lobbying group for the sector in Nuremberg. "The backbone of the economy is the Mittelstand, so thank you very much," Merkel tells hundreds of delegates packed into the city's convention hall. "We must fight to ensure we keep our status as a great exporter, and that 'Made in Germany' continues to mean something."

Germany, of course, isn't immune to populism and has an active neo-Nazi movement: Last year the interior ministry recorded more than 22,000 right-wing extremist crimes, the highest number on record. But no hard-right party has made it into the Bundestag since the 1950s. That's likely to change this time around, with polls showing the populist Alternative for Germany—known by the acronym AfD—will get about 10 percent of the vote in this month's elections. The party is strongest in the formerly communist East, where the Mittelstand has shallower roots. Jobs are more scarce and salaries are about 30 percent below those in the West. Across Germany, income inequality is an increasingly hot topic, and long-suppressed nationalism is slowly rising.
In Mecklenburg-Western Pomerania, a rural state on the Baltic Sea in the former German Democratic Republic, there's a sense of having been left behind after two decades of brain drain to the West. The AfD really took off after the 2015 refugee crisis, and last year it won 21 percent of the vote in the state's elections, trailing only the Social Democrats (31 percent) and pushing Merkel's CDU into third place, with 19 percent. Over a tankard of beer before a campaign event in Friedland, a two hours' drive north of Berlin on an EU-funded autobahn, AfD candidate Enrico Komning insists his party is neither far right nor xenophobic, despite racist remarks from some leaders and a platform that dismisses Islam as un-German.

Komning says that while the German economy is thriving, the benefits don't reach many of his supporters. For people who feel traditional parties don't represent them, "along comes the AfD, and we say: We'll look after you," he says. The party taps into national pride that Komning says has been wrongly stifled in the decades since the Nazi era. For most Germans, the memory of Hitler's rule still acts as an antidote to nationalist appeals. But Komning argues that "it's wrong to focus on just these 12 years of National Socialism and ignore the good in the rest of German history."
Komning defends a key AfD strategy: cranking up the heat on the current government in whatever way the party can—an approach that came into sharp focus at a Merkel rally an hour further north, in the Hanseatic port of Greifswald. As Merkel makes her way to the podium in Fishmarket square, a plane flies low overhead trailing a blue banner that reads "Vote AfD." When whistling AfD demonstrators interrupt her, Mutti—or "mother," as the chancellor is often called—breaks from her speech to mock the hecklers. "I don't think whistling will build Germany's future," she says before returning to her speech. She promises to boost security and avoid a repeat of 2015, when a million-plus migrants crossed into Germany—her biggest point of vulnerability with voters. But mostly she talks about maintaining the country's economic edge: improving technology in schools, shoring up infrastructure, and helping automakers develop new, cleaner engines.
The message resonates with Hans-Christian Schwieker, a 79-year-old vacationer from Cologne. Tucking into a bowl of hearty pea soup with bockwurst, he says he's not a big Merkel fan but nonetheless plans to vote for her. Sure, the campaign is boring. But that's as it should be, says Schwieker, who as a child in 1945 fled what's now Poland with his family. "Germany has experience with extremism," he says. "We don't want change."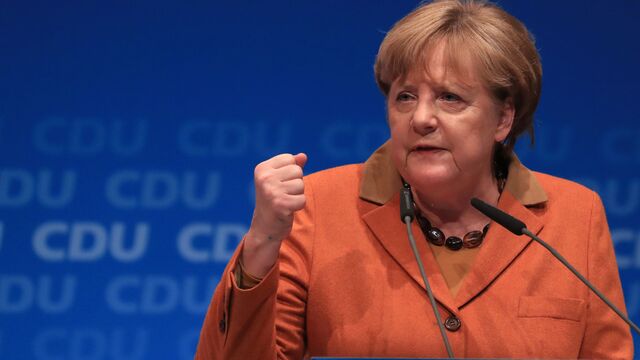 Before it's here, it's on the Bloomberg Terminal.
LEARN MORE