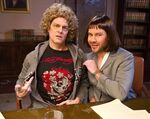 In a commonly parodied film scene from "The Social Network," the manic technology investor played by Justin Timberlake advises a fictionalized Mark Zuckerberg not to make money too early from his young company. Facebook instead needed to hold out for a big financial goal.
"A million dollars isn't cool. You know what's cool?" Timberlake intoned. "A billion dollars."
Some of America's largest companies are taking business advice from a movie character. And that's just sad. 
Apple and Facebook recently let it be known that they might spend about $1 billion each for entertainment programming targeted at the companies' users. Pressure on U.S. companies to support more highly skilled jobs spurred Apple and International Business Machines Corp. to each pledge $1 billion investments in American manufacturing and job training, respectively. Cisco Systems Inc. said a few years ago that it would devote $1 billion to a new cloud-computing service. Last fall, a group of energy companies set up a $1 billion fund to invest in environmentally friendly technology.
It's not a coincidence that all these commitments came with $1 billion price tags. That is the ideal amount of money for a company to publicly signal it is totally, absolutely, 100 percent committed to a promising initiative without actually having any clue about what it's doing and perhaps no intention of following through on its vague investment pledge.
One billion dollars is a company's Bat-Signal to get attention, except this Batman might never show up.

Behind these $1 billion headlines are companies motivated to patch their problem areas. For most of this decade, Apple Inc. has been saying it wants to start a revolution in consumer entertainment, but it has almost nothing to show for those promises so far. Facebook Inc. badly wants to siphon advertising budgets spent on television commercials, and its creation of a TV-like hangout is its latest effort to do so. Oil companies want to signal they're taking climate change seriously, and they're trying to profit by shifting energy use from coal to natural gas. Investors and the public need to be clear-eyed about these financial motives. 
The catch is the world will probably never know whether these companies wind up spending the $1 billion they promised. Apple doesn't need to disclose how much it dishes out for entertainment programming. Ditto for Facebook. And $1 billion doesn't go that far in movies and TV shows. Netflix, Walt Disney and Fox spend at least six times that figure on programming each year.
And since Cisco lit its $1 billion Bat-Signal in 2014, the company's capital spending -- which presumably would reflect costs for Cisco's cloud-computing service -- has actually declined. (Cisco shifted its strategy in cloud computing after its initial announcement.) 
I see through this public relations strategy dressed up as an investment blueprint. But it is nevertheless a sensible corporate strategy. Apple and Facebook need to convince entertainment and media companies to make programs just for them. The best way for anyone to be taken seriously in Hollywood or New York media circles is to wave a checkbook around -- or at least make it known that you are willing to wave a checkbook around.
All companies are also figuring out how to deal with President Donald Trump's pressure to hire more American workers. Part of Apple's response is its $1 billion investment fund in U.S. manufacturing firms. IBM CEO Ginni Rometty's pledge to hire more people in the U.S. and invest $1 billion in job training came just before a December meeting of technology executives with the recently elected U.S. president. 
Next time you see a headline about a company's new $1 billion commitment to something, put on your most cynical expression. Justin Timberlake was dead serious when he talked excitedly about $1 billion. These companies probably are not. 
Before it's here, it's on the Bloomberg Terminal.
LEARN MORE