Photographer: Marcos Moreno/AFP via Getty Images
U.K. Will Offer Troops to Support EU Operations After Brexit
By
Government aiming to make case for strong relationship with EU

Ministers will also offer foreign-policy cooperation
Britain will continue to offer troops to European Union operations after Brexit, as well as agreeing to joint foreign-policy positions with the bloc, even as it continues to link security to a future trade deal.
Defence Secretary Michael Fallon said the future partnership has to be both economic and one of security cooperation, in comments that are likely to irk European negotiating partners. When May first suggested in March that ongoing counter-terrorism cooperation would be contingent on a good deal, she was accused of blackmail.
Security is an area where the U.K. has much to offer the EU, with the second-largest defense budget in NATO and strong intelligence capabilities. The government published a 24-page position paper on the subject on Tuesday.
"The U.K. and EU partners share a common goal of a safe and secure world. This will continue after the U.K.'s exit," the paper said. "The U.K. will remain a committed partner and ally to its friends across the continent, not simply because U.K.and EU citizens face the same threats and as it is in both our interests to do so."
Still, Fallon underlined that the U.K. sees economics and security going hand in hand. He said on BBC Radio on Tuesday that "these are two legs to the same argument."
Reading Between the Lines
He offered another clue on the government's stance, saying while the U.K. would work with Europol, the European agency for law enforcement, it would not be part of it. There was a taste of that language in the paper, too.
Given "the capabilities we offer and the scale and depth of collaboration that currently exists between the U.K. and the EU in the fields of foreign policy, defense and security, and development, the U.K. seeks to develop a deep and special partnership with the EU," it said.
Several other documents in the series have argued that Britain should try to keep the U.K.'s relationship with the EU as close as possible to what it is at the moment.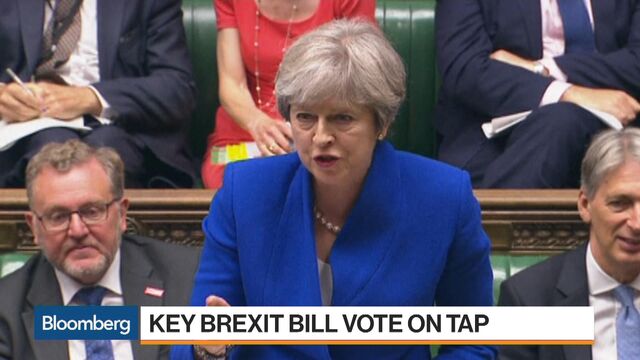 "After we leave the European Union, we will continue to face shared threats to our security, our shared values and our way of life," Brexit Secretary David Davis said in an emailed statement. "It's in our mutual interest to work closely with the EU and its member states to challenge terrorism and extremism, illegal migration, cyber-crime and conventional state-based military aggression."
Before it's here, it's on the Bloomberg Terminal.
LEARN MORE