Norway's PM Solberg Wins Election After Record Stimulus
By and
Voters back Conservative-led bloc as economy is recovering

Government loses seats amid gains for far-left parties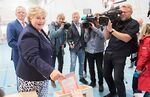 After spending a record amount of Norway's oil wealth to prevent a recession, Prime Minister Erna Solberg became Norway's first Conservative Party leader in more than 30 years to win re-election.
The 56-year-old, and the groups of lawmakers who support her, won a slender majority in the 169-member parliament, according to Norway's election authority after voting ended in Oslo late on Monday. With 93 percent of the votes counted, the four parties supporting the outgoing center-right government were set to gain 88 seats.
"It looks like we have a clear majority" to govern for "four more years," Solberg told cheering Conservative Party supporters at a rally in Oslo.
Moments earlier, Labor Party leader Jonas Gahr Store had effectively conceded defeat by expressing disappointment at the result. Gahr Store vowed to lead a "tough" and "constructive" opposition.
Projected seat distribution (with 93% of the votes counted):
| Center-right | Seats | Center-left | Seats |
| --- | --- | --- | --- |
| Conservatives | 45 | Labor | 49 |
| Progress Party | 28 | Center Party | 19 |
| Christian Democrats | 8 | Socialist Left | 11 |
| Liberals | 7 | Greens | 1 |
| | | Red Party | 1 |
| Total | 88 | | 81 |
Solberg will now needs to sit down with the anti-immigration Progress Party, the Liberal Party and the Christian Democrats to start talks on forming a new ruling coalition. Over the past four years, the quartet clashed regularly over issues such as immigration and the environment.
For an explainer on Norway's political parties, click here
The leader of Scandinavia's richest nation staged a remarkable comeback after trailing behind the Labor Party-led opposition at the start of the summer. She was helped by an economic rebound in western Europe's biggest oil and gas producer, which became more pronounced in the middle of this year.
The recovery was buoyed by a weaker exchange rate and record-low interest rates. But much of the turnaround followed unprecedented government spending, as Solberg tapped into Norway's oil wealth. She will go down in history as the country's first prime minister to make direct withdrawals from Norway's sovereign wealth fund, valued at almost $1 trillion.
"Optimism and jobs are back in the economy," Solberg said.
The prime minister has promised to moderate spending over the next four years as the economy normalizes. But she'll also need to mollify her coalition partner, the Progress Party, which is keen to keep up spending even as it targets tax cuts.
The early results were met with silence at the Labor Party rally. The vote was tantamount to a disaster, with projections showing it won about 28 percent. If confirmed, it would be its worst result since 2001. Party leader Jonas Gahr Store made several miscalculations during the campaign, including failing to capture the shifting mood on the economy. His personal wealth (Gahr Store is a dollar millionaire) and his flirt with the center-right parties also turned off many left-wing voters.
"We'll need to communicate even more clearly with our voters on the big dividing issues, which are about economic policy, welfare policy," said Labor's economy spokeswoman, Marianne Marthinsen. "I believe the next term will make those differences even more visible, because we won't have all these oil billions that can be pumped into the budgets at the pace we've seen over these past four years."
— With assistance by Jonas Cho Walsgard
Before it's here, it's on the Bloomberg Terminal.
LEARN MORE