Saakashvili Enters Ukraine as Supporters Break Through Border
Kateryna Choursina and Daryna Krasnolutska
Ex-Georgian president is heading to Ukrainian city of Lviv

Saakashvili was trying to get to Ukraine since morning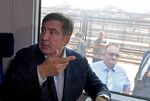 Former Georgian President Mikheil Saakashvili, whose Ukrainian citizenship and passport was revoked after his relations with the country's president fell apart, entered Ukraine after his supporters broke through a cordon of border servicemen.
Saakashvili said in an interview with private TV channel NewsOne that he is heading to a western city of Lviv after he spent a day trying to get into Ukraine from neighboring Poland.
The former Georgian official announced plans last month to enter Ukraine from Poland with "thousands" of supporters, saying his passport is still valid. More than two dozen Ukrainian lawmakers and politicians, including former Prime Minister Yulia Tymoshenko, traveled to Poland this weekend to join him. 
Saakashvili initially planned to cross the border via a checkpoint at Krakovets, and his supporters set up a camp nearby Saturday. However, after local police detained more than 100 people in camouflage clothing who were carrying pepper spray, a starter pistol and "metal stuff" as they approached the checkpoint, Saakashvili announced he would change his plan and instead take a train from Polish city of Przemysl to avoid provocations.
Ukraine's state-run railway monopoly Ukrzaliznytsia halted the train after "a person who doesn't have legal rights to enter Ukraine refused to leave," according to an emailed statement.
When that plan failed, Saakashvili announced he would cross the border at Shehyni checkpoint on a bus. While Polish border guards let him in, their Ukrainian counterparts blocked him on neutral territory, saying they were alerted that the checkpoint was under a bomb threat. After waiting for almost two hours, Saakashvili and his supporters left the bus, broke the cordon and the ex-president entered Ukraine on foot.
Saakashvili quit as Odessa regional governor in 2016, accusing President Petro Poroshenko and his allies of contributing to widespread corruption.
'Like Barbarians'
"Ukrainian authorities behave like barbarians," Saakashvili said on Sunday. "I will not make a gift to Poroshenko. We lost time but we did not lose our determination" to go to Ukraine. He said he will take a bus back to Krakovets.
The state border service on Friday advised citizens to use other crossing points from Saturday through Tuesday and put barbed wire near the checkpoint. On Sept. 1, Poroshenko signed a decree by the national security council to step up control over individuals who seek to cross the border without Ukrainian citizenship.
Saakashvili, 49, fell out with Poroshenko after years of partnership. The former Georgian leader, who rooted out cronyism and graft in his homeland, was invited by Ukrainian authorities along with other foreigners, mostly from Georgia, to help Ukraine recover from deadly street protests in 2014 that toppled the pro-Russian government and changed Ukraine's route toward closer ties with the European Union.
Saakashvili was in charge of an international reform council, set up by Poroshenko, for several months in 2015 and later was appointed to govern the Odessa region on the Black Sea. After quitting the governor's job, he started an opposition political party called the Movement of New Forces that calls for early parliamentary elections and criticizes Poroshenko and his allies. The party's profile picture on Facebook shows Saakashvili face-to-face with Poroshenko in a golden king's crown and calls for a "battle" against the system on Sept. 10.
Poroshenko approved the move by the Prosecutor General's office to strip Saakashvili of his Ukrainian citizenship based on unspecified documents received from Georgia, where Saakashvili faces criminal charges. Georgian authorities were asked by Ukraine to extradite the former head of state. The latest request was made this month.
— With assistance by Helena Bedwell
Before it's here, it's on the Bloomberg Terminal.
LEARN MORE