Schaeuble Flirts With German Greens as Schulz Jolts Campaign
By
Polls show Merkel bloc leading Schulz's SPD for Sept. 24 vote

Greens co-leader Oezdemir lauds Merkel's effect on her party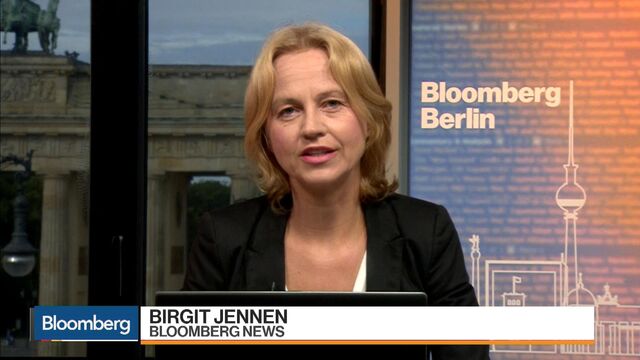 German Finance Minister Wolfgang Schaeuble reached out to the Greens saying they missed out on a prime chance to govern at federal level four years ago, as jostling over possible coalitions began less than two weeks from national elections in Europe's biggest economy.
Chancellor Angela Merkel's Christian Democratic Union-led bloc was prepared to pursue a coalition with the Greens after the last election in 2013, but the Greens declined to give the go ahead for further exploratory talks, Schaeuble, who was part of the CDU negotiating team, said on ARD television late Sunday.

"Mrs. Merkel said then -- it was about half past two in the morning -- that there are times in history when a window or door opens, and then it closes," Schaeuble said on the Anne Will show in conversation with the current Greens co-leader Cem Oezdemir. "Today I believe that you missed a chance, an open window."
Polls all show Merkel's bloc on course to defeat Martin Schulz's Social Democratic Party and win the Sept. 24 election but still in need of a coalition partner to form a majority government. While another grand coalition of the two main parties that has ruled for the past four years is one possible option, the other would involve allying with the Greens and the Free Democrats, two parties whose programs are far apart on Europe, tax, refugee policy and defense spending.

"We have one goal for this election: that Angela Merkel stays chancellor and that no one can form a government against us," Volker Kauder, her bloc's caucus leader in parliament, said on ZDF television on Monday. "Everything else we'll deal with as it happens."
Interactive Guide to Possible Coalitions and Policies
Schaeuble and Oezdemir, who are both from the southwestern region of Baden-Wuerttemberg, acknowledged their policy differences without overtly clashing on the show.

On his party's platform of shifting away from the combustion engine by 2030, Oezdemir signaled he was open to compromise when he said that he recognized the Greens wouldn't govern alone. At one point, the Greens leader said that under Merkel, the CDU "has offloaded a lot of ballast, and moved toward the middle of society."
"I believe that having the Greens in government would be good for this country, and I intend to work for that," Oezdemir said.
The show of willingness to do business underscores the difficulty for Schulz, whose SPD is facing what Die Welt newspaper called an election debacle with polls suggesting the party is set for its worst result since World War II.
Election 'Debacle'
Schulz took to the Internet on Sunday evening to recommit himself to the campaign and restate his party's platform, including pledges to fight to close the gender pay gap, boost federal money to modernize schools, ensure statutory pension entitlements, foster "reliable alliances" in Europe and resist "rearmament."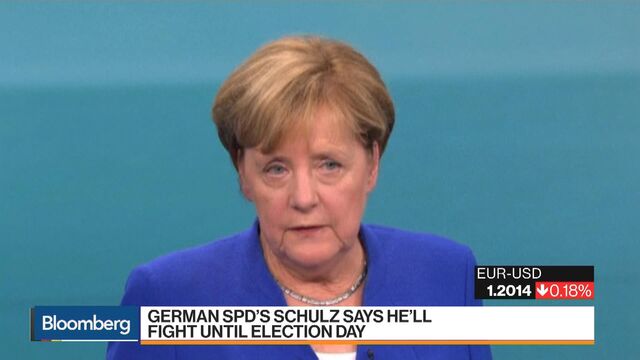 Seeking to energize his campaign for the final two-week stretch, Schulz will hold a news conference at 10 a.m. in Berlin on Monday. Merkel is scheduled to appear at a town hall meeting in the northern port city of Luebeck in the evening.
She also plans to talk to Russian President Vladimir Putin by phone, part of an effort by Merkel to use her international standing to enlist non-U.S. leaders in a push for a peaceful solution of the North Korean missile crisis. On Thursday, she's expected to address the German car industry's struggle to clean up diesel engines in a speech at the Frankfurt Auto Show.
The anti-capitalist Left Party meanwhile accused Schulz of aiming to settle for a role in government with the Social Democrats as junior coalition partner to Merkel -- rather than try to ally with them in a far-left government.
Schulz's statement in his online message that he would push four core projects after the elections when in government was "treacherous," Dietmar Bartsch, the lead Left party candidate, told Die Welt. "Because it's an application for junior partnership in the next grand coalition."
Before it's here, it's on the Bloomberg Terminal.
LEARN MORE