May Senses Victory on Brexit Bill That Faces Tougher Times
By and
Davis warns of 'chaotic' exit from EU if repeal bill blocked

Opposition parties accuse government of mounting a power grab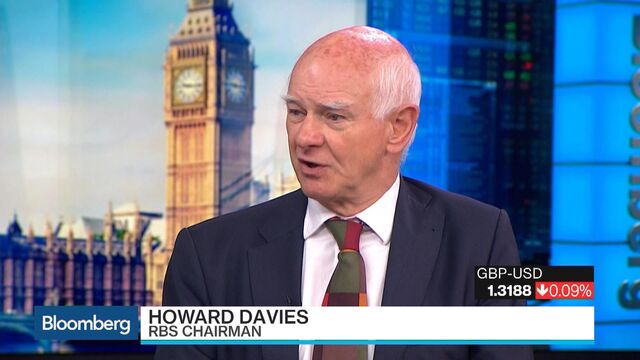 Prime Minister Theresa May's U.K. government is set to rally just enough lawmakers to back a key piece of Brexit legislation that will then face higher obstacles before it can become law.
Support from Northern Ireland's Democratic Unionist Party and a lack of opposition within her Conservative Party mean May will likely squeak to victory on a bill designed to allow her government to copy European Union law onto the domestic statute book. Once enshrined, the laws can be edited after Britain leaves the bloc in 2019.
Lawmakers plan to debate the bill on Monday before a late-night vote that could continue into the early hours of Tuesday. The real challenge will be whether May can keep the draft amendment-free at the so-called committee stage it enters next.
The most contentious parts of the draft law are the so-called Henry VIII powers, which would allow ministers to make changes to existing laws, bypassing normal scrutiny by Parliament. The opposition Labour Party and minor parties say that amounts to a "power grab" that they plan to contest. Some Conservatives have expressed disquiet as well.
The government warns that blocking the legislation would run the risk of a "chaotic" departure from the EU, with negative implications for companies and financial markets.
'Need Reassurance'
"Businesses and individuals need reassurance that there will be no unexpected changes to our laws after exit day, and that is exactly what the Repeal Bill provides,'' Brexit Secretary David Davis said in a statement. "Without it, we would be approaching a cliff edge of uncertainty which is not in the interest of anyone."
Read More: Brexit repeal bill faces scrutiny: QuickTake Q&A
Not everyone is on board with Davis. Keir Starmer, Labour's spokesman on Brexit, wrote in the Sunday Times that the bill is "an affront to Parliament and the principle of taking back control."
Former Tory Chancellor Kenneth Clarke told Sky News that while he's been assured that the government won't use the Henry VIII powers to make policy, "Parliament would be sensible to get them to write it so that they're not giving themselves the possibility of using powers that no government's ever tried to take at the expense of Parliament before."
Even so, Clarke and other pro-European Tories, including former Attorney-General Dominic Grieve, former Education Secretary Nicky Morgan and former Business Minister Anna Soubry, have indicated they'll vote for the bill, while seeking to amend it at its next step, the so-called committee stage. 
Labour Rebels
Adding wind to the government's sails, the Pro-Brexit Labour lawmakers Kate Hoey and Graham Stringer have suggested they'll break with Labour ranks by not opposing the bill. Former Europe Minister Caroline Flint, who campaigned to stay in the bloc, told BBC Radio on Monday that she'll disobey party orders for the first time in her 20 years in Parliament.
"Labour's job is to improve this bill, not to kill it as it begins its passage through Parliament,'' she said. "It's important that we got on with the job of making sure we can have as smooth an exit from the European Union as possible. Whoever was in government would have to have a bill like this.''
Elsewhere on Monday, EU chief negotiator Michel Barnier will meet in Brussels with the Scottish Parliament's Europe Committee. The Trades Union Congress, an umbrella group of labor unions, will also say May should seek to maintain membership of the single market. Britain should stay in both the single market and customs union during a post-Brexit transition period, TUC General Secretary Frances O'Grady said on Monday.
"We need a transition period so that we don't go off the cliff edge and we need to play by the rules during that period so that we can focus on the long-term deal," O'Grady told BBC Radio. "We need to keep all options on the table about what happens next."
Next Hurdle
Foreign Secretary Boris Johnson told the same program that despite the need for interim arrangements, the government wouldn't swerve from its plan to leave the customs union and single market in any eventual Brexit deal.
"We are giving people the certainty and the confidence that we are going to stick to plan," Johnson said. "We are going to come out of the penumbra of the European Court of Justice, out of the single market, out of the customs union; we will take back control of our borders and indeed of the cash that we currently send."
Once the government has navigated Monday's vote, attention will turn to another measure scheduled for late Tuesday, in which ministers seek to ensure that Conservatives dominate key parliamentary committees that scrutinize draft laws. Labour has called the move another attempt to concentrate power, saying it breaks from the convention that the panels reflect the makeup of Parliament.
Defense Secretary Michael Fallon said on Sunday that the support of Northern Ireland's DUP gave the Tories an overall majority, entitling them to dominate the panels. "It wouldn't be reasonable to have lots of votes in a committee room upstairs that then have to be reversed when you take the bill back downstairs," he told the BBC's "The Andrew Marr Show."
Before it's here, it's on the Bloomberg Terminal.
LEARN MORE