Catalan Separatists Plot Show of Force in Battle With Madrid
By
Spanish prosecutors seeking charges against separatist leaders

Separatists say 1.8 million votes required to claim victory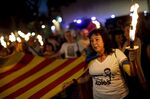 Catalonia's separatist leaders are seeking a show of strength from their supporters Monday as they advance toward an illegal referendum on independence.
The movement will stage its annual demonstrations on Catalan National Day, a holiday in the region, with parades along four of the main avenues in the regional capital Barcelona as well as speeches and concerts. More than 390,000 people had registered to take part as of Sunday.
Separatist leaders are trying to show Prime Minister Mariano Rajoy the scale of the backlash he risks if he uses force to shut down their preparations for an Oct. 1 ballot. Faced with the biggest constitutional crisis since the 1981 coup, Rajoy is hesitating to use the most drastic tools at his disposal, wary of the reaction on the streets, even as he refuses to engage with the separatists. Catalan President Carles Puigdemont is warning voters and investors to prepare for a disorderly breakup of the Spanish state.
"From Oct. 2 nobody will have an excuse not to talk," Puigdemont said at a press conference Monday in Barcelona. "Dialogue is the priority, but it would be irresponsible not to have foreseen other scenarios."
Read more: Catalan History of Grievance Leaves a Divided Spain: QuickTake
In a spectacle choreographed for the media, demonstrators will be asked to change into yellow shirts as they pass under campaign banners. There will also be recognition of those killed in two terrorist attacks in the region last month.
Still, outside of the vocal minority, support for independence in Catalonia has declined over the past four years as the economic recovery drains away moderates. Just 35 percent said Catalonia should be independent in a July survey by the Catalan government's polling agency.
"Even if they go ahead with the referendum, it's still hard to see how Catalonia can really take its independence project forward," said Caroline Gray, a lecturer in politics and Spanish at Aston University. "There's a real disconnect between how they see themselves and how this all looks to the outside world."
Chancellor Angela Merkel's spokesman Steffen Seibert said on Friday that the separatists' demands were an internal matter and that Germany has a strong interest in maintaining stability in Spain.
Turning Up the Heat
The separatist leadership won't consider more disruptive action while they believe it's still possible to stage the Oct. 1 referendum, said Jordi Sanchez, an activist who is running the separatist campaign in coordination with political and civic leaders including Puigdemont and his vice president, Oriol Junqueras.
If it becomes clear that the vote can't happen -- if, for example, police seize the 6,400 ballot boxes hidden across the region -- then they have plans for protests blocking the main avenues in Barcelona, and might even consider action to obstruct exporters, Sanchez said.
Moody's Investors Service said in a report Monday that Catalan government bonds could suffer if the tensions between Barcelona and Madrid escalate further.
"They have been calling for a few days to take control of the streets, in line with the populist origins of the movement," Enric Millo, the Spanish government's representative in Catalonia, said in an interview with COPE radio Monday. "Their goal is to project a false impression that Catalonia is for independence."
Sanchez said that he'd be comfortable in claiming victory in the referendum if support for independence reaches about 1.8 million votes, regardless of turnout, because such a result would equates to a clear majority even in regular Catalan elections. The Spanish government has been encouraging people not to participate in the ballot.
Criminal Prosecutions
Spain's chief prosecutor last week warned that anyone helping to organize the referendum will risk criminal charges. He's already preparing action against senior officials including Puigdemont and on Friday Spanish police raided a printing works suspected of helping to prepare ballot papers.
In a setback for the secession campaign, Barcelona Mayor Ada Colau said Sept. 8 she wouldn't for now allow use of the city's voting centers unless public employees get assurances they're protected from any legal consequences of working on the referendum. Colau is in favor of the ballot, so long as her officials aren't put at risk.
Rajoy is coming under pressure to take even stronger measures after the Catalan assembly last week approved the legal framework for the referendum and the new institutions of an independent state. Spain's constitutional court suspended the referendum law on Thursday and is due to consider similar measures against the so-called transition law this week, following a request.
Still, some in Rajoy's People's Party are demanding the prime minister use his power to revoke Catalonia's autonomy under the 1978 constitution. Vox, a fringe group on the hard right, last week filed a petition with Catalonia's top court calling including Puigdemont and regional assembly speaker Carme Forcadell to be jailed immediately.
— With assistance by Charles Penty
Before it's here, it's on the Bloomberg Terminal.
LEARN MORE