When Do You Move Prisoners Out of a Storm's Path?
Texas waited until after Harvey hit. Now it's Florida's turn.
By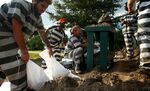 In the days ahead of Hurricane Harvey, hundreds of Texas prison inmates were forced to fill sandbags the state would use to brace against coming flood waters. In Texas, inmates aren't paid for their labor—they filled the bags for free. As they were finishing, people across much of the state prepared to get out of harm's way.
But as the massive system took up station over Houston, prisoners in threatened areas stayed put. It took three days of flooding after Harvey made landfall for the state's Department of Criminal Justice to decide that almost 6,000 inmates from five facilities needed to be evacuated.
Now it's Florida's turn.
The Sunshine State is preparing for the arrival of the more powerful Hurricane Irma this weekend. Initially, the Florida Department of Corrections said it didn't have immediate plans to evacuate inmates. Asked what would prompt such a move, a department spokesperson cited the "best interest of inmates" and "public safety" as factors that would govern whether prisoners would be shifted away from the storm.
On Thursday, Florida officials announced one prison, two work release centers, two work camps, and three community release centers would be evacuated "in an abundance of caution." The evacuation affected about 7,000 inmates. Florida had a little fewer than 100,000 inmates across 151 facilities. About a dozen correctional facilities are in an area that Irma could impact, though some tracks of the storm show it potentially affecting most of the state. 
Irma, a Category 4 storm, has already devastated islands in the Caribbean and is one of the strongest storms to form in the Atlantic. Leaving inmates at the mercy of a hurricane has caused disasters in the past. When Hurricane Ike hit Texas in 2008, Galveston County Jail inmates weren't evacuated. "This decision caused immense human suffering in the jail," a report by the Texas Civil Rights Project stated a year later. "The physical structure of the jail survived the storm, but Galveston's decimated infrastructure was unable to provide basic human necessities like water and sanitation to the prisoners in the weeks following Ike's landfall." 
During Hurricane Katrina, some inmates stood in chest-high flooding and were left without sufficient food and water after correctional officers abandoned the prison, according to Human Rights Watch. When an evacuation finally occurred, more than 500 inmates were missing from the list of those meant to be relocated. "They left us to die there," Dan Bright, an inmate at Orleans Parish Prison, told HRW at the time.
A 2006 report by the American Civil Liberties Union's National Prison Project on how prisoners fared during Katrina found conflicting stories on inmates' deaths. While the Orleans Parish Criminal Sheriff's Office said inmates weren't killed during the storm, both inmates and deputies reported such deaths. "There are dead inmates in there still," Deputy Luis Reyes said at the time, according to the report. "When the guards were doing their last sweeps, there were one or two here and there. We were not giving them any food or water."
Prisoners experienced harsh conditions during the hurricane because they're viewed as "second-class citizens," Eric Balaban, an attorney for the National Prison Project, alleged in 2006 when the ACLU report was released.
As Irma approached this week, Florida's Polk County sheriff stirred a national furor after his office tweeted that anyone seeking shelter who had an outstanding warrant or was a convicted sex offender would be sent to prison rather than a shelter. "I actually don't think you should have to die in a hurricane just because you have a warrant," one Twitter user replied. Another posted darkly that the policy "definitely won't cause anyone to try to ride out the storm because they have too many unpaid parking tickets or whatever. Good job."
States such as Florida and Texas plan for hurricane evacuations as a matter of course. The Texas Corrections Department, which oversees 147,000 inmates statewide, said it reviews contingencies every year, determining how to evacuate and relocate prisoners. In addition to moving the inmates, the department has to send in additional staff to maintain an inmate-to-officer ratio at locations inland and transport extra food and water to those facilities, according to spokesman Jason Clark. 

"We were able to move 6,000 offenders and do so safely, efficiently," Clark said of Hurricane Harvey. Along with higher-security prisons, five Texas jails were also evacuated, according to Brandon Wood, the executive director of the Texas Commission on Jail Standards. "We've learned from previous natural disasters," he said. 
Despite the statements by Texas officials, there were reports of prisoners left in extreme conditions. According to the wife of one inmate who spoke with the Texas Chronicle, a first-floor prison cell flooded up knee-high as Harvey arrived. (Clark, who said he visited the facility, denied the allegation.) Other relatives told the local newspaper that medical staff at the Texas facilities were few and far between.
"That is a large logistical task, to move people from a prison facility out," Clark said. The Texas inmates were loaded on buses to other facilities, which had been determined to be safely outside Harvey's penumbra. The department experienced no issues, as all the inmates made it safely from their original facility to their destination. The same could not be said of Katrina, where hundreds of inmates were reportedly unaccounted for after evacuation. 
In Texas, officials said county jails built in the past 20 years are constructed to withstand Category 5 storms, which means authorities have to weigh the options of sheltering in place or evacuating. "Trying to predict which counties would be impacted—we don't know for sure," Wood explained. "We take the best estimate."
Watch This Next: Hurricane Irma on a Collision Course With Florida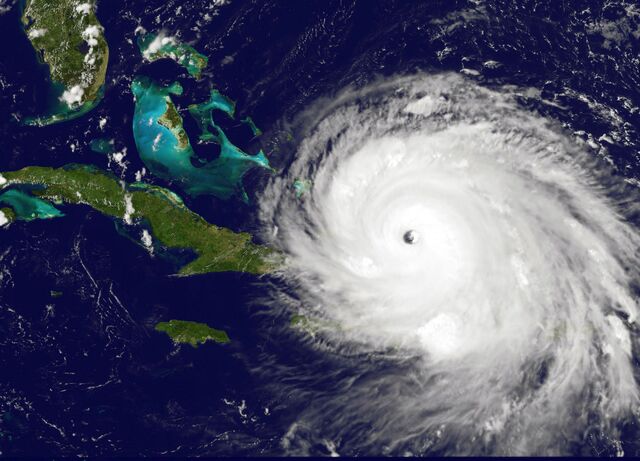 Before it's here, it's on the Bloomberg Terminal.
LEARN MORE