Theresa May's Case for Claiming a Majority That She Doesn't Have
By
Opposition Labour pounces on initiative, calls it power grab

But "Parliament makes its own rules" argues one observer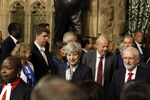 Does Theresa May have a majority in Parliament? Famously not, if you've followed British politics. Hers is a minority government reliant on the outside support of a handful of Northern Irish lawmakers.
But her spokeswoman is claiming otherwise to defend what critics see as an underhanded move to control once-obscure committees that now matter with Brexit. "The government has a majority on the floor of the House," Alison Donnelly told reporters on Friday.
That is why, she said, it's right for May's Conservatives to take a majority of seats on the various Parliamentary subcommittees that control legislation: "It is perfectly legitimate."
Her argument is that a majority rests on the "confidence and supply" deal that May did with the Democratic Unionist Party after the election, to get their support on some key votes. The opposition said the government is making a power grab.
So who's right? According to Chris Bryant, a Labour lawmaker and author of a two-volume history of Parliament, the Conservatives cannot have it both ways.
May's arrangement with the DUP is different from the coalition deal that May's predecessor David Cameron did in 2010. The DUP sit on the opposition benches in the Commons and -- crucially for them -- continue to receive the government money given to opposition parties to pay for their offices.
"If the Conservatives are including the DUP in the government, then the DUP should lose the money," he said in an interview. His response to the assertion that the government has a majority was unprintable.
Philip Cowley, professor of politics at Queen Mary University, London, was slightly more sympathetic to the government's position. "On a very narrow definition, the government commands a majority in the Commons," he said. "The single governing party doesn't, but the government does."
But according to Cowley, the question of who is right is beside the point.
"Parliament makes its own rules," he said. "If Parliament decides that the single governing party doesn't require a majority in the chamber to get a majority on the committees, then that's what happens. Of course, the Tories may come to regret it should Labour come to power in a minority administration."
In Britain's first minority administration in decades, there are going to be a lot of similarly obscure arguments. Given May's precarious political position and her determination to stay on -- ''I'm not a quitter,'' she repeated Friday -- a knowledge of parliamentary procedure and how to use it to one's advantage will be paramount.
Before it's here, it's on the Bloomberg Terminal.
LEARN MORE