Irma Is the Caribbean's Most Expensive Storm at $10 Billion and Counting
By
German risk assessor says damages could reach $13 billion

Small island of Saint Martin had highest losses so far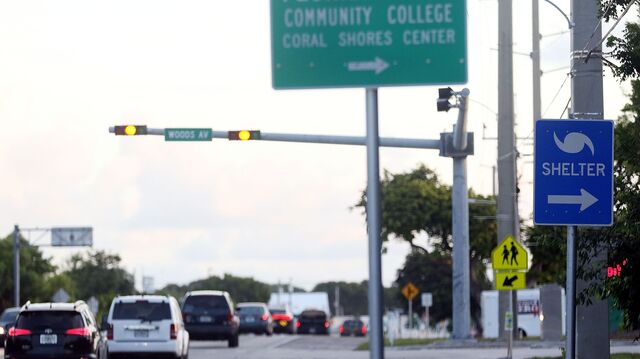 Hurricane Irma, on track to tear through Florida this weekend, is already the most expensive storm in the Caribbean's history, according to a disaster risk assessor. 
The storm, which was pummeling the Bahamas and Cuba on Friday, caused around $10 billion in damages as it leveled homes and destroyed infrastructure in places like Saint Martin, the US Virgin Islands and Antigua and Barbuda, said the Germany-based Center for Disaster Management and Risk Reduction Technology, which is attached to the Karlsruhe Institute of Technology.

"This is the worst ever in terms of damages," James Daniell, a senior risk analyst at the center, said in a telephone interview. "We're at $10.4 billion now and we're probably going to be at $13 billion by the time it's finished with the Caribbean."
Irma is causing more damage than previous storms because of its strength and also because it is passing through relatively wealthy countries with large amounts of capital stock, Daniell said. As the size and frequency of storms increases, it's only a matter of time before a category five hurricane hits a major city in the region like Santo Domingo in the Dominican Republic, or Havana in Cuba, doing even more damage, Daniell said.

The center's $10 billion figure, its median estimate, puts Irma ahead of the inflation-adjusted $9.4 billion in damages caused hurricanes Ike in 2008 and Hugo in 1989. 
In dollar value, damages were worst in Sint Maarten and Saint Martin, which share an island, the US Virgin Islands and British Virgin Islands, the center said in a report on its website. The estimate did not include damages to two of the region's largest economies, the Dominican Republic and Cuba.
Irma is expected to become one of the costliest storms in U.S. history after it hits Florida and other states starting this weekend. Enki Research, a disaster modeler based in Georgia, said damages could reach $200 billion.
Before it's here, it's on the Bloomberg Terminal.
LEARN MORE