China's Export Engine Slows as Imports Maintain Steady Gains
Bloomberg News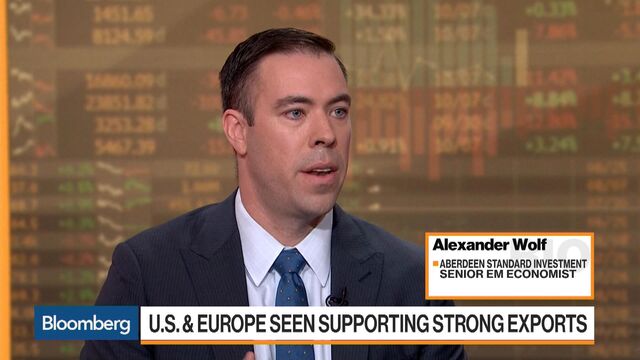 China's export growth slowed as global demand for the country's products moderated, while imports remained robust as investment at home aided demand.
Key Points
Overseas shipments climbed 5.5 percent in August from a year earlier, the customs administration said Friday
Imports rose 13.3 percent, leaving a trade surplus of $42 billion
Big Picture
As geopolitical risk clouds the global economic outlook, demand for Chinese products softened slightly amid mixed performances in some developed economies. Domestic demand showed signs of remaining resilient thanks to steady investment.

Economist Takeaways
"Strong imports reflect the momentum of domestic demand. It seems that third-quarter gross domestic product will see an upside risk again," said Raymond Yeung, chief economist for Greater China at Australia & New Zealand Banking Group Ltd. in Hong Kong. "The strong yuan is favorable to China if they want to buy more from the rest of the world."
"The slowdown of export growth is unsurprising, given lower price inflation and slower global demand growth," said Larry Hu, head of China economics at Macquarie Securities Ltd. in Hong Kong. "These days, trade numbers aren't very relevant to the renminbi, which is under a self-strengthening trend between appreciation and capital inflows."
"Slowing export growth is both a result of a higher base effect and moderate global demand," said Gai Xinzhe, an analyst at Bank of China's International Institute of Finance in Beijing. "Most of the economic indicators for the rest of the year will probably look like the trade data we saw today: slowing but still resilient."
The Details
Exports to the U.S. increased 8.4 percent from a year earlier to $39.2 billion
The trade surplus with the U.S. jumped to $26.2 billion, the highest in almost two years
— With assistance by Miao Han, Xiaoqing Pi, and Enda Curran
Before it's here, it's on the Bloomberg Terminal.
LEARN MORE