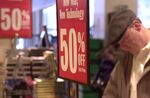 The beach season is over, and it seems that vacationers' annual search for good reads failed to leave Barnes & Noble Inc. with a summer glow. The U.S. bookstore chain said it lost shoppers during the end of spring and first half of summer, marking 17 out of 19 quarters of negative same-store sales and dragging down the stock this week to near its low. 

But look on the bright side: Barnes & Noble also just got cheaper for buyers, and one activist shareholder has made a convincing argument  for why there may be some buyers lurking. Sandell Asset Management Corp. is calling for Barnes & Noble's board to find a suitor to finally take the $516 million company private. Certainly easier said than done, but some interesting recent developments support the idea.

First, as I noted in July when Sandell made its case, there was Amazon.com Inc.'s takeover of Whole Foods Market Inc. for $13.7 billion. To everyone -- but especially to discouraged retail investors -- it was quite telling that the e-commerce giant's biggest acquisition was for the kind of brick-and-mortar chain it's tried to snuff out. 
But then a one-off situation became a trend of sorts. Wal-Mart Stores Inc. and Google also announced last month that they're teaming up on a voice-activated shopping service to better compete with Amazon and its Echo speakers. Then this week Home Depot Inc. struck a similar accord with Google, while Kohl's Corp. said it will offer Amazon products in some of its stores. 
If there are to be more pairings of the new and old retail paradigms, Barnes & Noble has 632 stores that are ripe for the taking. They're known to be in good condition -- versus, say, the terminally ill Sears Holdings Corp. -- and they're generally in good locations, as management reassesses the 100 or so that are up for lease renewal each year to see whether they should be renewed, relocated or closed. 
At 76 years old, the chain's founder, biggest shareholder and Chairman Leonard Riggio should want to find a deal and write the last chapter of Barnes & Noble's story. Even if you don't buy into the Amazon argument, the case for financial suitors is clear: Barnes & Noble is cheap relative to other retailers (even though almost all of them are in the same perforated boat), it still throws off cash and it has barely any debt. And it's not just Riggio who has a vested interest in keeping Barnes & Noble around for as many years as possible -- so do publishing houses because without it, they're left to deal predominantly with Amazon.
Considering that Barnes & Noble's loss this quarter was worse than any analyst expected, the company's Ebitda projection of $180 million for the fiscal year ending next April actually isn't terrible. It reflects management's continued efforts to cut costs, which is good. But it'd be even better if the board worked harder than ever to find a deal.
According to DealReporter last week, Barnes & Noble has been working with Guggenheim Securities, which also advised on its 2015 spinoff of the education business. That said, Barnes & Noble denied that it's engaged in a sale process at this time. 
The public market is clearly no place for it any longer. And with all these moving parts in and around the retail industry, what better time to scope out buyer interest and close the books  on its own terms.
Before it's here, it's on the Bloomberg Terminal.
LEARN MORE