U.K. Finance Sector Seeks Clarity on Contracts During Brexit
By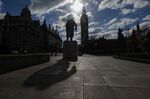 The British finance industry urged the government to provide "early clarity" on whether contracts involving financial transactions will remain valid after Brexit.
In a report issued Thursday, the Association for Financial Markets in Europe said it's important for the U.K. government to detail what a transition from the European Union after March 29, 2019, will look like.
"Banks are conducting extensive planning and putting in place arrangements to minimize disruption to their businesses and clients," said Simon Lewis, the group's chief executive officer. "However, additional time is required to adapt to the post-Brexit framework and to minimize disruption for end-users of financial services, including ensuring the continuity of existing contracts."
Among the group's requests is that cross-border trades and contracts executed before Brexit, but that continue after the point of departure, should be valid.
The report was published the same day that Liberal Democrat party leader Vince Cable told Brexit Secretary David Davis that U.K.-based financial services worry they'll have to cope with three different rule books: the single market under current EU membership, a different system in a transition period, and then whatever new regulations apply after Brexit.
Financial services are "seriously concerned" at the "costs and uncertainty" this will bring, Cable said during a debate in Parliament. 
Davis said he agrees with Cable's point and wants the transition to be as smooth as possible. The EU is "open" to discussing the transition, he said, adding there's a "good prospect" of reaching a deal to avoid a cliff-edge exit.
Before it's here, it's on the Bloomberg Terminal.
LEARN MORE