Trump Son Tells Senate Panel of Meeting With Russian Lawyer
By
Senate Judiciary panel's staff questions Donald Trump Jr.

Senator says public testimony may come later this month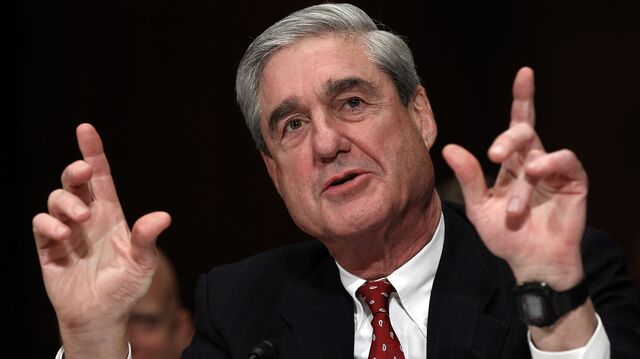 Donald Trump Jr. discussed details of his much-scrutinized meeting with several Russians during the presidential campaign in a five-hour, closed-door meeting Thursday with staff of the Senate Judiciary Committee.
Democratic Senator Dick Durbin of Illinois said that President Donald Trump's son began with a short opening statement to the panel, which is probing Russia's meddling in last year's presidential campaign and whether anyone close to Trump colluded in that effort.
The president's son said in the prepared statement that he set up the meeting in June 2016 because he was interested in potentially damaging information about Hillary Clinton, but that nothing came of it. He said he'd always intended to seek legal advice before making any use of such material.
He said he didn't conspire with Russians. "I did not collude with any foreign government and do not know of anyone who did," Trump Jr. said.
He also said the Trump Organization has discussed potential real estate projects in Moscow, but "the company was not able to find a suitable project and has not consummated any real estate deals or made other investments in Russia."
Trump Jr. brought several lawyers to the Senate session, which Democrats described as a deposition to prepare for a public hearing that Judiciary Chairman Chuck Grassley of Iowa has said he will hold later in the year. Democratic Senator Chris Coons of Delaware said he expects the public hearing could happen later this month.
Democratic Senators
Several Democratic senators attended portions of the appearance by Trump Jr., who avoided television cameras on the way into the meeting.
One of them, Senator Richard Blumenthal of Connecticut, said in an interview outside the hearing, "The question is what information was provided during the meeting, or afterward? What other meetings occurred?"
"There are a lot of areas that still need to be covered, whether with him or others," said Blumenthal.
He was the only senator to attend most of the questioning except for breaks for Senate votes. He said later that by being in the room he was able to see things that wouldn't be in a transcript, such as pauses and Trump Jr.'s demeanor. Blumenthal said he hopes the transcript is made public.
Adam Schiff of California, the top Democrat on the House Intelligence committee, which is conducting its own Russia probe, said Trump Jr.'s written statement raised new questions. Schiff said Trump Jr. omitted a detail that he'd included in a previous statement: that Trump knew nothing of the meeting.
Schiff said that raised questions over whether Trump knew of the meeting "in advance, and whether it formed the basis of his contemporaneous public promise of derogatory information about Secretary Clinton."
Trump Jr. issued a statement after he left the Senate meeting saying he answered every question posed "until both sides had exhausted their lines of questioning. I trust this interview fully satisfied their inquiry."
'I Love It'
The June 2016 meeting at Trump Tower in New York included Paul Manafort, who was Trump's campaign chairman at the time, and current White House senior adviser Jared Kushner, the president's son-in-law. They met with Natalia Veselnitskaya, described in an email to the younger Trump as a Russian government attorney who had some official documents and information that would incriminate Clinton.
"This is obviously very high level and sensitive information but is part of Russia and its government's support for Mr. Trump," wrote Rob Goldstone, an ex-British tabloid reporter who helped arrange the meeting.
"If it's what you say I love it especially later in the summer," Trump Jr. replied.
In an interview on Fox News in July, Trump Jr. said he "probably would have done things a little differently" when he met with the Russian attorney. But he described the meeting as a "nothing."
The meeting provided "no meaningful information" and was mostly focused on Russian adoptions, Trump Jr.'s prepared statement said.
While Veselnitskaya, the Russian lawyer who met with Trump Jr., has denied she acted on behalf of the government in Moscow, her ties have included representing Russia's main intelligence agency in a long-running property dispute.
Others at the meeting with Trump Jr. were Goldstone, lobbyist and former Soviet counterintelligence officer Rinat Akhmetshin and Ike Kaveladz, who once helped Russians and other Eastern Europeans move $1.4 billion through U.S. banks and, federal authorities claimed, set up more than 2,000 shell companies for anonymous Russian brokers.
Also Thursday, Federal Bureau of Investigation Director Chris Wray says he hasn't detected "any whiff" of interference from the White House in the bureau's investigation into Russian meddling in the election. Wray, speaking at a conference in Washington, said he respects special counsel Robert Mueller, who is leading the investigation, and has "confidence" his team will complete the probe.
— With assistance by Shannon Pettypiece, and Nafeesa Syeed
Before it's here, it's on the Bloomberg Terminal.
LEARN MORE