markets
ECB Keeps Stimulus Unchanged as Investors Await Draghi Insight
By
Governing Council starts talks on next year's plans for QE

ECB president to hold media briefing at 2:30 p.m. in Frankfurt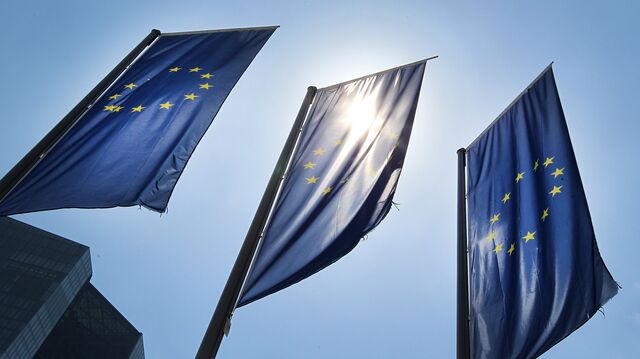 The European Central Bank opted to keep its stimulus settings unchanged for now as officials started cautiously sketching out the future of their quantitative-easing program.
Policy makers maintained asset purchases at 60 billion euros ($72 billion) a month until December, and reiterated their pledge to increase the size or duration if the economy worsens. They left interest rates unchanged and repeated that they expect borrowing costs to stay at present levels until well past the end of net asset buying. Attention now turns to President Mario Draghi's press conference at 2:30 p.m. in Frankfurt, when he'll be pressed for insight into the Governing Council's first formal talks on next year's strategy.
Click here to watch Draghi's press conference
| ECB Monetary Policy | Sept. 7 decision |
| --- | --- |
| Main refinancing rate | 0 percent |
| Deposit rate | minus 0.4 percent |
| Marginal rate | 0.25 percent |
| Asset-purchase target | 60 billion euros a month |
Draghi had for months put off any official discussion over the path of QE beyond 2017, amid concerns over low inflation and the potential market disruption at any hint of an exit. That changed this week; Governing Council members were presented with documents exploring scenarios including different combinations for the volume and length of asset purchases, according to euro-area officials familiar with the matter.
The euro pared its gains after the decision, and traded up 0.5 percent at $1.1973 at 1:47 p.m.
Follow the ECB decision and briefing in real time in TOPLive here
The ECB will have spent almost 2.3 trillion euros on debt by the end of the year, and the currency bloc's broadening recovery has spurred calls for monetary support to be pared back. The challenge is to provide assurance that the process, whenever it starts, will be gradual. The next policy meeting is scheduled for Oct. 26.
"October is probably a sweet spot for them to announce tapering, because you then tell market participants early enough and you give the people, who deal with the nitty gritty of the purchase program enough time to prepare for a start in January," Elga Bartsch, chief European economist at Morgan Stanley in London, said before the decision.
Some policy makers are especially concerned about a potential overshoot of the euro, which is up more than 13 percent against the dollar this year and last month climbed above $1.20 for the first time since the ECB announced the launch of QE two and a half years ago.
While governors including Germany's Jens Weidmann, Austria's Ewald Nowotny and Estonia's Ardo Hansson have played down those concerns, saying the gains largely reflect the euro-area's improving economy, most economists surveyed by Bloomberg expect Draghi to address the topic at his press conference.
Draghi will also unveil updated economic forecasts that will probably highlight the main conundrum facing the ECB. While the euro zone is poised for the fastest economic expansion in a decade and unemployment is falling, inflation continues to fall short of the goal of just under 2 percent.
Economic Projections
ECB staff have revised up their 2017 growth forecast and slightly lowered their inflation outlook for 2018 and 2019, according to a euro-area official familiar with a draft document distributed to national central banks. The previous projections in June foresaw growth of 1.9 percent this year, with inflation of 1.3 percent in 2018 and 1.6 percent in 2019.
The slowness of consumer-price growth may give Draghi cause to wait as long as possible. Another reason to hold off is that the U.S. Federal Reserve, in the end-game for its own QE program, is expected to announce later this month how it'll unwind its balance sheet. That could have an impact on bond yields and exchange rates.
At the same time, some economists have noted that unless the ECB starts reducing its monthly purchases, it'll soon run into a shortage of debt to buy.
"The house view is for euro/dollar to break $1.20 today as this seems to be the inevitable direction of travel," Viraj Patel, currency strategist at ING Bank in London, said in a note before the ECB decision. "However, the extent of the move above here, and whether we can stay there, will depend on the rhetoric of Mario Draghi."
— With assistance by Brian Swint, Carolynn Look, Chad Thomas, Alessandro Speciale, Zoe Schneeweiss, Craig Stirling, Jana Randow, Catherine Bosley, Lucy Meakin, Alexander Kell, Jurjen Van De Pol, Fergal O'Brien, Kristian Siedenburg, and Andre Tartar
Before it's here, it's on the Bloomberg Terminal.
LEARN MORE