Dollar Tumbles as Yen, Euro Rally on Irma, ECB: Markets Wrap
By
Peso, Bolsa drop after Mexico earthquake; base metals plunge

Yen rallies, stocks mixed as storm tears through Carribbean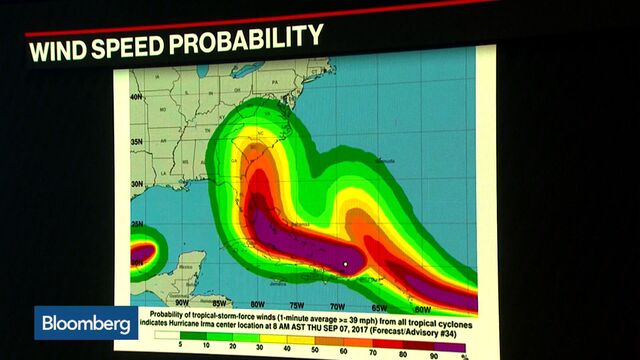 The dollar dropped to the weakest in more than two years and Mexican markets fell as natural disasters continued to assail North America and the Caribbean.
The greenback sank Friday as traders girded for economic damage to Florida from Hurricane Irma, set to make landfall Sunday. West Texas crude saw its biggest drop in more than two months as the storm threatened to curtail demand for oil. The S&P 500 Index fell 0.15 percent while the Dow Jones Industrial Average rose less than 0.1 percent. Ten-year Treasury yields reached 2.05 percent. 
Overnight, the most powerful earthquake in a century shook Mexico, adding to investor anxiety. The Mexican Bolsa and peso both declined.
Industrial metals plunged on North Korea tensions and concern over Chinese manufacturing. Nickel dropped as much as 5.6 percent on the London Metal Exchange and copper fell more than 3 percent. 
New York Fed President William Dudley and his Kansas City counterpart Esther George were the latest U.S. central bankers to lay out their views ahead of a policy-setting meeting this month. Both reiterated the need to continue raising rates while conceding that low inflation remained a concern. In an interview with CNBC, Dudley said hurricanes could affect the timing of rate hikes.
Stocks in Europe were mixed as the euro stayed above $1.20. A robust economic recovery amid stubbornly low inflation in the euro region is helping propel the common currency's surge of more than 14 percent against the dollar this year.

Meanwhile, the threat from North Korea lingers. U.S. President Donald Trump said it's not "inevitable" that the U.S. will wind up in a war with North Korea over its continued development of nuclear weapons, though military action remains an option. Pyongyang may test a missile this weekend to coincide with its "founding day" on Sept. 9.
Terminal subscribers can read more on our Markets Live blog.
The key events this week:
The White House is considering at least six candidates to succeed Janet Yellen as the next Fed chair, people familiar with the matter said.
The ECB is said to be studying bond-buying options that stick to existing limits, according to euro-area officials familiar with the matter.
And here are the main moves in markets:
Stocks
The S&P 500 Index fell 0.15 percent as of 4 p.m. New York time, while the Dow Jones Industrial Average climbed 0.06 percent.
The Mexican Bolsa IPC Index fell 0.46 percent.
The Stoxx Europe 600 Index advanced 0.1 percent. 
Germany's DAX Index climbed 0.1 percent. 
The U.K.'s FTSE 100 Index fell 0.3 percent.
Currencies
The Bloomberg Dollar Spot Index declined 0.2 percent. 
The euro increased 0.1 percent to $1.2032, the strongest in almost three years. 
The British pound advanced 0.8 percent to $1.3203. 
The Japanese yen advanced 0.7 percent to 107.74 per dollar, the strongest in 10 months.
The Mexican peso declined 0.2 percent to 17.706 per dollar.
Bonds
The yield on 10-year Treasuries climbed two basis points to 2.05 percent. 
Germany's 10-year yield gained one basis point to 0.31 percent. 
Britain's 10-year yield increased two basis points to 0.99 percent.
Commodities
Gold fell 0.1 percent to $1,347.49 an ounce. 
West Texas Intermediate crude declined 3.1 percent to $47.56 a barrel. 
Copper fell 3.3 percent to $3.04 a pound, the biggest drop in more than four months.
— With assistance by Netty Idayu Ismail, Y-Sing Liau, Andreea Papuc, and Eddie Van Der Walt
Before it's here, it's on the Bloomberg Terminal.
LEARN MORE