China Foreign Reserves Rise a Seventh Month Amid Yuan Strength
Bloomberg News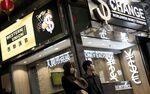 China's foreign-exchange reserves posted a seventh straight gain in August as the yuan rose in its best monthly performance in at least a decade.
Key Points
Stockpile climbed $11 billion to $3.09 trillion, the People's Bank of China said Thursday.
Compares with a $3.1 trillion estimate in a Bloomberg survey.

Big Picture
Steady economic fundamentals have helped restore confidence in the yuan, and capital controls remain tight as new rules on overseas investments were introduced last month to categorize the nation's plan to crack down on "irrational" outbound acquisitions.
The yuan has surprised analysts with faster-than-expected appreciation. The onshore currency gained 2.13 percent to 6.5889 per dollar last month. A weaker dollar has lifted the value of assets in yen and euros.
Economist Takeaways
"Authorities continue to keep a tight rein on outflows," Freya Beamish, chief Asia economist at Pantheon Macroeconomics in Newcastle, U.K., wrote in a note. With the Party Congress on Oct. 18, "they're taking no chances of destabilizing outflows, and the tight policy appears to be working."
"The strong yuan has been the major factor to attract more inflows than outflows," said Iris Pang, an economist at ING Groep NV in Hong Kong. "The PBOC continues to keep the yuan strong to consolidate market expectations for appreciation and therefore stop net outflows."
"With the stronger yuan and easing capital-outflow pressures, the PBOC has no reason to burn foreign reserves as it did last year, so generally we'll see the stockpile steady above the $3 trillion threshold for the rest of this year," said Wang Qiufeng, an analyst at China Chengxin International Credit Rating Co. In Beijing. "Expectations for the yuan have completely shifted thanks to a weaker dollar."
"I see most of the increase being due to positive valuation gains as well as income received, rather than the PBOC intervening to purchase dollars," said Khoon Goh, head of Asia research at Australia & New Zealand Banking Group Ltd.
Reserves could gradually rise to $3.1536 trillion by year-end as capital outflow pressures ease, Liu Li-gang, chief China economist at Citigroup Inc. in Hong Kong, wrote in a note.
Bloomberg Intelligence
"A combination of yuan strength, rising mainland equity markets, and resilient growth all helped stabilize reserves," Bloomberg Intelligence economists Tom Orlik and Fielding Chen wrote in a report. "The government's investigation of overseas investments by some of China's most high-profile corporates likely also cast a pall over outflows. Valuation effects likely had a minor positive effect."
The Details
China will keep reserves at a reasonable, appropriate level as it sees a more solid foundation for stabilization in cross-border capital flows, the State Administration of Foreign Exchange said in a statement
Reserves denominated in the International Monetary Fund reserve currency known as Special Drawing Rights were at SDR 2.19 trillion, little changed from July.
— With assistance by Miao Han, Yinan Zhao, Enda Curran, and Ran Li
Before it's here, it's on the Bloomberg Terminal.
LEARN MORE