Balance of Power: Art of the (Bad) Deal Hands Democrats the Keys
By and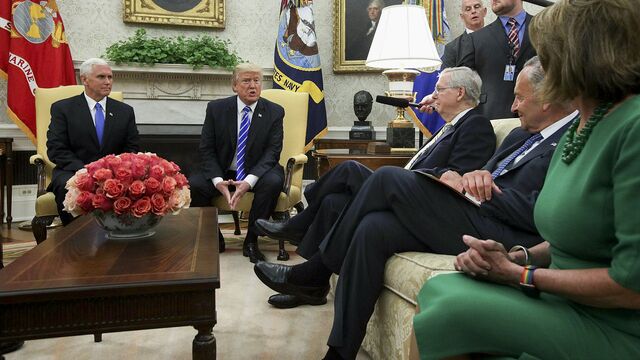 Republicans who've always had a sneaking suspicion that Donald Trump's deal-making prowess might not measure up to his boasts just saw their worst fears realized.
Trump unexpectedly spurned his Republican allies in Congress yesterday when Democrats held out the offer of a short-term fix to his debt-limit problem. House Speaker Paul Ryan had called the proposal "ridiculous" and "unworkable" just hours earlier. Trump loved it.
The president's move staves off the battle over government funding only until December and undercuts his own treasury secretary in the process -- Steven Mnuchin, like Republican congressional leaders, had been arguing for a longer-term increase on the debt limit.
The White House is pitching the agreement as a way to free up Congress to focus on Trump's major legislative initiative -- overhauling the tax code. But the very lawmakers who Trump will need to make progress on tax reform or secure funding for his border wall are now bitter and disappointed, feeling that Trump lunged at a feel-good fix instead of the deep cuts or overarching budget discipline Republicans preach. And they're fast losing faith in the president's negotiating skills.
"Democrats got exactly what they wanted," House Freedom Caucus head Mark Meadows said. What's worse, he added, the deal "gives them the greatest leverage in the world to get exactly what they want later."
Sign up to receive the Balance of Power newsletter in your inbox, and follow Bloomberg Politics on Twitter and Facebook for more.

Global Headlines
Irma's wrath | The hurricane that slammed into a chain of small Caribbean islands has damaged or destroyed as much as 95 percent of homes in Barbuda, Prime Minister Gaston Browne said. Irma is now on a path toward Florida that could make it the most expensive storm in U.S. history. Even then, as Jennifer Dlouhy writes today on the aftermath of Hurricane Harvey, health risks will remain long after the floodwaters recede.
Modernizing Islam | Tunisia's 90-year-old President Beji Caid Essebsi is proposing to change laws on inheritance, which currently award women less than men and derive from Islam's holy texts. But it's a high-risk undertaking in a climate where religious extremism has thrived, and one that's already stoking a wider regional (and religious) debate.
A Nobel laureate under pressure | Former political prisoner Aung San Suu Kyi is facing the kind of criticism once leveled at Myanmar's former military junta for failing to curb ethnic violence that's left the stateless Muslim minority Rohingya in crisis. The attacks threaten to sap confidence in the fast-growing Southeast Asian nation, which has already seen foreign investment plunge 30 percent over the past 12 months. 
Coal, steel and populism | Gelsenkirchen in Germany's industrial Ruhr Valley was once a symbol of the economic rebirth from the ashes of World War II. As Rainer Buergin reports, the lights have now mostly gone out and it's become a stronghold of the far-right AfD party. The AfD's vociferous opposition to Chancellor Angela Merkel's refugee policy has it vying for third place in the Sept. 24 election.
In Trump we trust | The presidents of Russia and South Korea sat side by side in Vladivostok and said they saw the Trump administration as willing to solve the North Korean crisis through diplomacy. Their comments came hours after Seoul bolstered its defenses against Kim Jong Un's rockets and warned that Pyongyang may unleash another missile as soon as this weekend.
And finally ... One of the world's longest-serving leaders, Cambodia's Hun Sen, said he has no plans to step aside after more than 32 years in power. Following the arrest of an opposition leader, Hun Sen (who's 65) said he's decided to "continue my work for another 10 years." He'll need to if wants to catch up with the world's most-durable (non-royal) leaders.

— With assistance by Ben Sills, Adrian Leung, and Caroline Alexander
Before it's here, it's on the Bloomberg Terminal.
LEARN MORE