technology
United Airlines Dodges U.S. Fine for Passenger-Dragging Scandal
By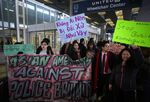 United Continental Holdings Inc. avoided a fine for the April incident in which passenger David Dao was dragged off a plane by Chicago security officials.
The U.S. Department of Transportation found that an enforcement action against United wasn't warranted, according to a May 12 letter that was obtained by Flyers Rights through an open-records request. The nonprofit organization on Wednesday posted a link to the letter in a newsletter.
Dao's forcible removal from a flight was captured on video and circulated online by fellow travelers. The video sparked worldwide condemnation of the Chicago-based airline and multiple apologies by Chief Executive Officer Oscar Munoz. The board canceled Munoz's expected 2018 elevation to chairman and tied compensation more closely to customer service. United averted a lawsuit by settling out of court with Dao.
In an emailed statement, United said it had made "meaningful strides that improve our customer experience." Incidents in which passengers have been denied boarding have fallen 90 percent since May 1 compared with the same period a year earlier, the carrier said.
Before it's here, it's on the Bloomberg Terminal.
LEARN MORE