Tunisia Taps Veteran Adviser for Finance Ministry in Reshuffle
By and
Chelghoum served as economic adviser to the president

Cabinet changes come as PM faces economic reform pressures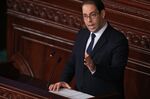 Tunisia's prime minister appointed a senior economic adviser to the president as finance minister, as the birthplace of the Arab Spring uprisings struggles to revive its economy and win back investor support.
Ridha Chelghoum's appointment to a position he held around the time of the 2011 upheaval was part of a broader cabinet reshuffle aimed at ending weeks of uncertainty following the dismissal of the former finance and education ministers. The North African nation is under pressure to carry out fiscal and economic reforms that were conditions for a $2.9 billion International Monetary Fund loan even as it grapples with high youth unemployment and a tourism industry battered by militant attacks.
Moody's Investors Service last month cut Tunisia's long-term issuer rating and the central bank's foreign currency debt rating to B1 from Ba3, citing delays in implementing the reforms, which include cutting the public wage bill that consumes more than 14 percent of gross domestic product.
Prime Minister Yousef El-Shahed has been facing growing pressure from his coalition to move ahead on the IMF program, including from his own Nidaa Tounes party. "The technocratic nature of the government and El-Shahed's rising popularity have made both Nidaa Tounes and its Islamist coalition partner Ennahda increasingly uneasy with this situation and suspicious of the prime minister's ambitions," Riccardo Fabiani, senior analyst for the Middle East and North Africa at the New York-based Eurasia Group said in an e-mailed report.
Chelghoum, whose appointment must be approved by President Beji Caid Essebsi, would return to the ministry at a tumultuous time. Acting Finance and Investment Minister Fadhel Abdelkefi had resigned because of a pre-existing legal case; his predecessor, Lamia Zribi, had been fired over her handling of the exchange rate.
Chelghoum is a veteran in government and well known to the IMF. He was appointed in February 2016 as a senior adviser the president, charged with pushing through economic reforms. He served as President Zine El Abidine Ben Ali's last finance minister before the autocrat's ouster in 2011, then returned to that office in the Islamist-led government that came to power after the uprising.
In other changes, El-Shahed appointed Ziad Al-Athari as minister of international cooperation and development, AbdelKarim Zoubaidi as minister of national defense and General Lotfi Brahem, who has held high-ranking positions in the National Guard, as the new interior minister.
Before it's here, it's on the Bloomberg Terminal.
LEARN MORE