Vacant U.S. Posts Hamper Hurricane Aid as Irma Set to Strike
By , , and
Emergency, housing, environmental agencies all lacking people

Trump administration lags predecessors in making appointments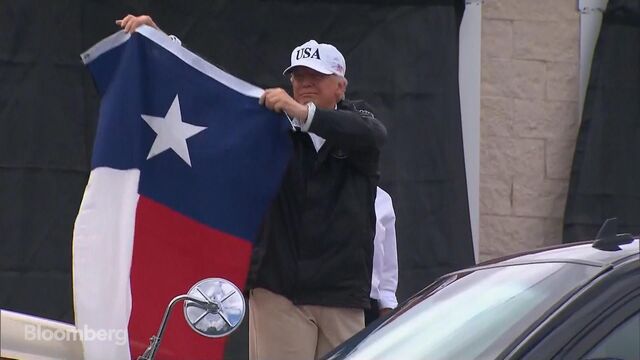 The Trump administration's slow pace of appointments has left vacancies in key posts related to emergency response, something that may hamper efforts to help victims of Harvey's record rainfall and Hurricane Irma's punishing winds.
Deputies are missing from the Federal Emergency Management Agency, which spearheads relief in the early days after disasters, and at the Department of Housing and Urban Development, which helps get storm victims back into lodgings. The Environmental Protection Agency doesn't have a regional director in Texas whose duties would include responding to Harvey's inundation of polluted Superfund sites.
President Donald Trump has said he doesn't intend to fill "unnecessary" positions, and his administration is behind the appointments pace of the Obama and Bush White Houses. He has proposed slashing the EPA's budget by almost a third, HUD's by 13 percent and FEMA's by 11 percent.
"To the extent that those kind of remarks and his indifference to appointments at senior levels reflect an animus toward government itself, there is undoubtedly a price to pay in the effectiveness of the country to respond to a variety of disasters," Paul Bledsoe, a lecturer on environmental policy at American University in Washington and a former official under President Bill Clinton, said in an interview.
Public relations offices at EPA and FEMA headquarters didn't immediately respond to emailed queries.
Trump, in a tweet Thursday, said, "Hurricane Irma is raging but we have great teams of talented and brave people already in place and ready to help."
Housing and Urban Development Cuts in Trump Budget: BGOV Insight
At the housing department, led by a skeptic of government, Secretary Ben Carson, nine of 12 top positions aren't filled, according to a tally kept by the Partnership for Public Service and the Washington Post. In six cases the Trump administration hasn't nominated somebody to fill the post; two nominees await Senate confirmation including Pamela Hughes Patenaude as deputy secretary responsible for day-to-day operations.
Carson, in an interview broadcast Wednesday by National Public Radio, said his agency would take care of families left homeless by the storm.
"There's no question that it's harmful that we don't have our complete complement of people," Carson said, faulting the Senate for not confirming two high-level picks. "Fortunately, we have many people who have stepped up to the plate and we're working very hard to keep things moving in a positive direction."
HUD "has put in place a disaster response team that includes career professionals with decades-long experience in disaster recovery," Raffi Williams, an agency spokesman, said in an email. "HUD will be there every step to ensure disaster survivors receive assistance."
Carson's department wins praise from some.
More: Irma Lashes Caribbean as Florida Braces for Powerful Storm
"HUD already has good, capable, competent, experienced leadership in place to run a successful recovery program," said Marion McFadden, who in 15 years with HUD helped lead disaster responses. She cited Neal Rackleff, a former housing director for the city of Houston, who is in place as a deputy at HUD with responsibility for disaster recovery.
"We have every indication he's well placed to take on this responsibility" after working effectively for the city including guiding flood relief, said McFadden, who is vice president with Enterprise Community Partners Inc., a nonprofit group based in Columbia, Maryland, that works on affordable housing.
At FEMA, where Administrator Brock Long has been in place since June, two top aides await Senate confirmation, including one whose position was created in response to shortcomings in the response to 2005's Hurricane Katrina, according to the Partnership for Public Service.
On Wednesday, the House passed $7.4 billion for a disaster-relief fund. The measure must now be considered by the Senate. The Trump administration made its first relief request for Harvey on Sept. 1, and Category 5 Hurricane Irma headed toward Florida Friday, portending more damage.
Regional Offices
The EPA's response to Harvey will be hampered with few political staff installed in key posts, said Christine Todd Whitman, a Republican who led the agency under former President George W. Bush from 2001 to 2003.
Among the vacancies are the heads of almost all of EPA's 10 regional offices, who are on the front lines of interactions with states and local governments. A regional administrator just took the reins at Atlanta-based Region 4, but Dallas-based Region 6, which oversees activity in Texas, Louisiana and three other southern states, does not yet have a Trump-approved leader.
"It makes it difficult, because what you've got is a lot of career people in the regions without a leader who are worried every day about their job anyway," Whitman said. "They are afraid if they put a foot wrong they've signed their exit from the agency."
Hundreds of EPA workers are voluntarily leaving as Administrator Scott Pruitt works toward a one-fifth reduction of head count. Some on-scene coordinators with a lot of experience are leaving the agency, said John O'Grady, head of the employees' union at the agency.
"The question is, long term, how well can the agency deal with this," O'Grady said.
The EPA has 143 people responding to Hurricane Harvey to address health and environmental concerns, said David Gray, a Dallas-based spokesman for the agency.
 
The federal response could benefit from one overall leader that works across agencies, said Amy Liu, director of the Metropolitan Policy Program at the Brookings Institution, a policy group in Washington.
"We need one person who wakes up every day and thinks about: How can the federal government be a steady partner to the Texas community -- and even Florida if that becomes the case," Liu said.
Before it's here, it's on the Bloomberg Terminal.
LEARN MORE