Former House Tax Chief Says Overhaul Unlikely to Happen in 2017
By
Dave Camp says significant progress still possible this year

Trump is traveling to North Dakota to pitch tax-code overhaul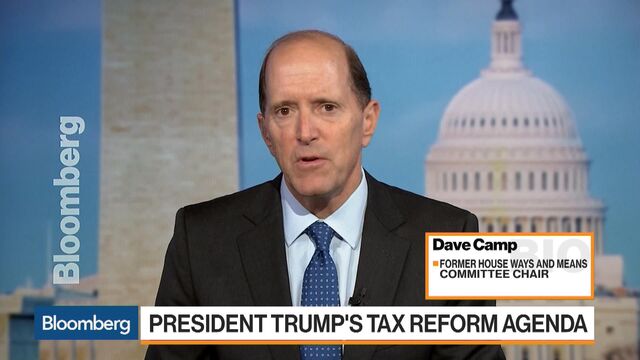 Dave Camp, the former head of Congress's tax-writing House Ways and Means Committee, said he doesn't think a revamp of the U.S. tax code will happen this year.
"There are a lot of competing issues," Camp said in a Bloomberg TV interview Wednesday. "I think they can make significant progress this fall -- I wouldn't be surprised if the actual signing of a bill or enacting into law doesn't occur until sometime in early 2018."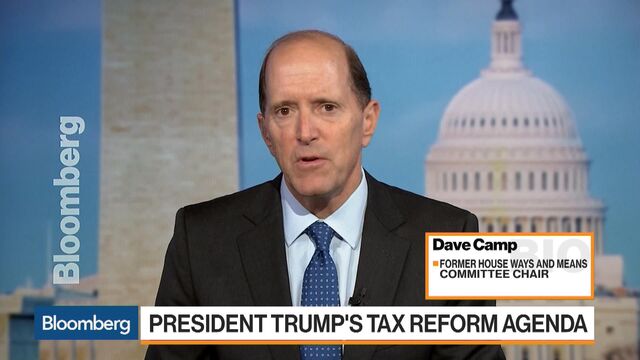 Camp, a Michigan Republican who now works as a senior policy adviser with PricewaterhouseCoopers LLP, said he expects lawmakers will spend September "blocking and tackling," and trying to build consensus among Republicans for a tax overhaul.
President Donald Trump will travel to North Dakota Wednesday on the second stop of his sales pitch for overhauling the tax code. House Speaker Paul Ryan of Wisconsin has said it's essential to complete a tax bill by the end of the year or it risks being derailed by political complications surrounding mid-term elections in 2018. Senate Majority Leader Mitch McConnell of Kentucky hasn't committed to finishing legislation by the end of 2017; in May, he declined to put a deadline on it.
The so-called Big Six -- made up of White House officials and congressional leaders involved in tax negotiations -- jointly released a two-page statement in July that outlined a broad set of agreed-upon tax principles. Specifics, including such basic matters as where to set the corporate tax rate and how to set up individual tax brackets, have yet to emerge.
Camp said Congress has already done much of the work in terms of studying particular tax strategies.
"I think I did 30-plus" hearings on tax matters chairing the Ways and Means panel from 2011 to 2015, Camp said. Still, he said, deciding how to balance revenue raisers with tax-rate cuts will be difficult.
"I'm not overly optimistic that this is going to be a walk in the park," he said.
Before it's here, it's on the Bloomberg Terminal.
LEARN MORE