Here's How Trump Can Reshape the Fed
By
Decisions now needed on chairman, vice chairman, two governors

Recent presidents have opted against shaking up central bank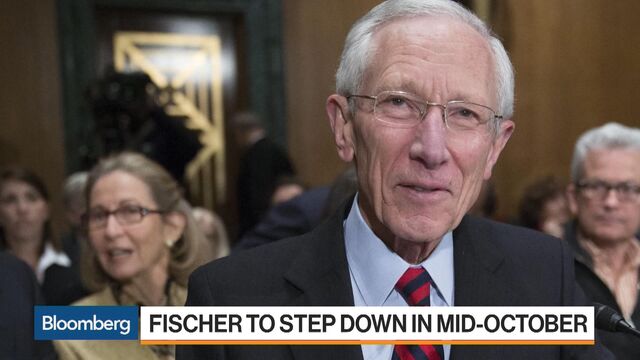 Stanley Fischer's surprise early exit from the Federal Reserve makes President Donald Trump's biggest economic decision of the next few months even starker: whether to preserve continuity at the top of the nation's central bank -- or not.
Chair Janet Yellen's term expires in February, and her reappointment hasn't been seen as likely. Fischer, the vice chairman, announced Wednesday he will leave the Fed in October. Both are former economics professors and longtime central bank officials. Trump also has two more governor vacancies to fill, after nominating Randal Quarles to lead the institution's regulatory efforts.
Presidents have mostly opted for insiders since businessman G. William Miller, appointed by Jimmy Carter, lasted less than two years as chairman in the late 1970s. Fischer and the previous two Fed vice chairs had all been central bankers before they took the post. Three of the past four chairs were central bankers, the exception being Alan Greenspan, who was a well-known private-sector economist.
Previous presidents have gone for continuity in Fed appointments because it usually pays a big dividend: stable financial markets. If confidence in the Fed is lost, falling stock and bond prices can exert a massive penalty on White House popularity and the economy. Trump told the Wall Street Journal in July that Yellen is "absolutely" a possibility for reappointment because she is a "low-interest-rate person."
"Trump is obviously unpredictable. He has run his whole campaign and presidency as flying in the face of past practices," said Mark Spindel, co-author of a new book on the Fed titled The Myth of Independence. "But maybe he understands something about interest rates."
Tough Job
Leading the Federal Reserve is a tough job by design. Representative Carter Glass and the framers of the 1913 law that created the institution built diversity into its structure. Turning the differing views of its 12 regional reserve bank presidents, and as many as seven governors at the Fed Board in Washington, into consensus and policy action requires both deft management and, at times, a large dose of single-minded conviction.
Even Fischer remarked on Yellen's intellectual sparring, saying in a recent Financial Times interview that "although she looks like your grandmother, she is a lot tougher."

Yellen is Trump's most obvious continuity choice. However, he has also mentioned that he is considering Gary Cohn -- his top White House economic adviser, and a former Goldman Sachs Group Inc. president -- for the job.
The post is easier when the leadership agrees on certain fundamental ideas, such as the scope and limits of the Fed's tools and the central bank's independence from political interference. Yellen's speech on regulatory issues in Jackson Hole, Wyoming, last month, showed her sticking with the core post-crisis banking reforms in the 2010 Dodd-Frank Act, which could make her less appealing to Trump's Republican advisers.
Key Tests
In effect, Trump would have to make an exception to the pattern of his other appointments, where loyalty to the president and similarity of doctrine appear to be have been key tests.
"It is important over the longer run to maintain people with strong respect for the institutional independence of the Fed," said Seth Carpenter, chief U.S. economist at UBS Securities in New York and a former Yellen adviser. "There is a potential risk here."
Carpenter said it's helpful if the Fed is led by an economist who uses the same framework as other policy makers. On the other hand, he adds, economists can also be far too dogmatic in their views.
The past three Fed chairs -- Greenspan, Ben Bernanke and Yellen -- have shown the ability to be flexible and adaptive, perhaps one of the most important qualities now in an economy that was deeply scarred by the recession.
Greenspan suspected that technological proliferation was having a deep and broad influence on U.S. productivity. He was right. Bernanke used a variety of untested tools to mitigate the blow of financial panic. Most of them worked. Yellen has overseen the end of large-scale bond purchases and eight years of near-zero interest rates, and has plotted out a path to shrink the balance sheet without much impact on financial markets or the economy.
Economic Challenges
Trump's appointments will affect how the Fed addresses several key economic questions that are more subtle. The link between unemployment and inflation has changed if not broken down. Inflation has been stuck below the Fed's 2 percent target for most of five years. Some asset prices are rich. Productivity is either mis-measured or low.
Fischer has generally supported Yellen's strategy of gradualism even though he may have put more weight on reduced slack leading to an eventual pick up in inflation.
"Continuity is important," said Julia Coronado, a former Fed staff economist who heads MacroPolicy Perspectives in New York. Fischer "understood the issues and had a deep grounding in the research, theory, and evidence. He brought a credible voice to the table and global experience."
Before it's here, it's on the Bloomberg Terminal.
LEARN MORE