Czech Billionaire Leader Faces Criminal Probe Before Ballot
By and
Babis's ANO party leads opinion polls before October ballot

Police seeking probe into alleged fraud related to EU funds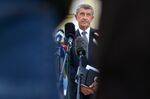 Czech billionaire Andrej Babis, the chairman of the country's most popular party, will face a criminal fraud investigation in a case he has denounced as a political attack aimed at thwarting his bid to lead the next government after October general elections.
Lawmakers voted on Wednesday to strip Babis of the parliamentary immunity that protects members of the assembly from prosecution. The motion followed a request from police, who are seeking to open a probe into Babis over the alleged misuse of European Union aid funds at a company belonging to his business empire. The second-richest Czech has rejected the accusations and said they have been fabricated by his rivals.
"This case is clearly designed to destroy me politically," Babis told the lower house of parliament before the decision. "Whether it will or not will be decided by citizens in the elections -- they'll have the final say, and I'm going to fight. I can promise that you won't silence me. You won't frighten me. You won't stop me. You won't get rid of me."
Babis's ANO party has come under increasing pressure from rivals who are trying to close the distance with his wide lead in opinion polls. Presenting a message that it's an alternative to traditional political forces, ANO's popularity has risen steadily since it joined the three-party ruling coalition almost four years ago. In response, his critics in the government and opposition have accused him of tax evasion and conflicts of interest linked to his chemical, food and media holdings.
Babis is pledging to cut state debt and says his rivals in the political establishment are corrupt, inept managers of public finances. While ANO's presence in the government has firmly embedded it in the political mainstream, the rhetoric of its leader echoes the platforms of populist forces challenging the political landscape across Europe.
Read more about Babis's finances and his political goals in QuickTake Q&A
Babis, whose fortune is estimated at $3.6 billion, has rejected all accusations and said he did nothing illegal in the case of a 50 million-koruna ($2.3 million) EU subsidy transferred to his Stork Nest recreation complex.
The center belonged to Babis's business empire in the past, but he told a parliamentary hearing last year that it was owned by his children and his brother-in-law when the application for EU funds was filed. He transferred all of his assets to a trust fund, supervised by his wife this year after his coalition partners teamed up with opposition to tighten the conflict-of-interest law.
ANO's support has ranged from 26 percent to 34 percent in opinion polls in the past two months, compared with the 19 percent it received in the 2013 election. The party has a lead of more than 10 percentage points over its nearest competitor.
It's too early to say whether the probe will help or hurt Babis before the vote, said Pavel Saradin, a professor of political science at Masaryk University in the Czech city of Brno. On the one hand, it may hurt his credibility among voters. But he has also cast himself as the victim of a smear campaign that may gain sympathy with those who are disenchanted with the traditional parties.
Czech political turmoil has had almost no impact on the economy and financial markets since the ex-communist nation joined the EU 13 years ago because it's election system produces multi-party coalition government and thus prevents radical policy changes. The country now boasts the lowest unemployment in the 28-member bloc and the koruna has been the best performer over the past two decades among 31 major currencies tracked by Bloomberg worldwide.
The exchange rate was little changed at 26.100 per euro on Thursday as of 9:44 a.m. in Prague, and Czech government bonds maturing in up to three years traded at negative yields.
— With assistance by Peter Laca
Before it's here, it's on the Bloomberg Terminal.
LEARN MORE