Brexit Bulletin: Nobody Said This Would Be Simple
By
Labour and some Conservatives challenge speedy changes to law

Leaked immigration paper shows end to free movement on day one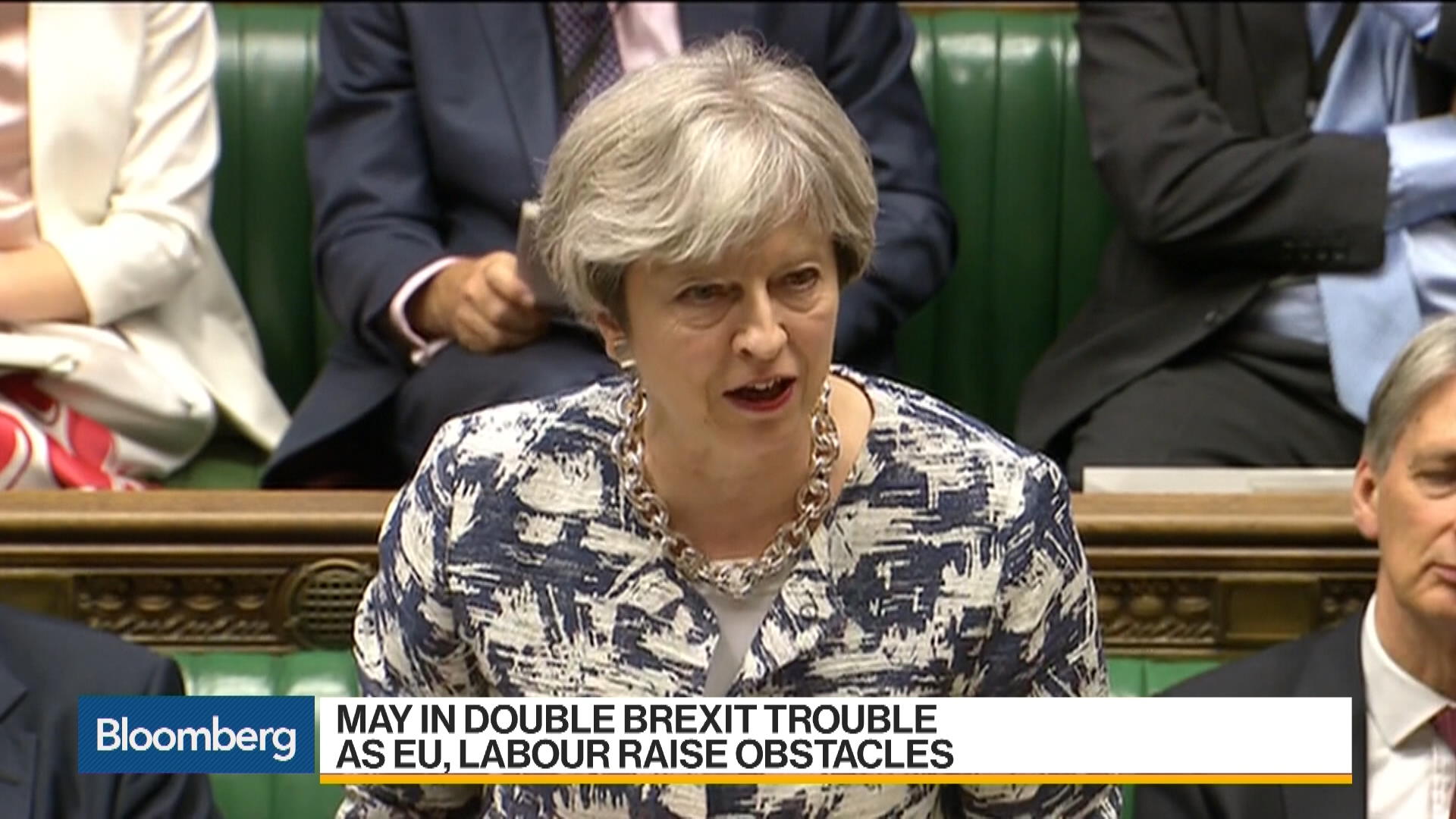 Sign up to receive the Brexit Bulletin in your inbox, and follow @Brexit on Twitter
U.K. Prime Minister Theresa May needs to brace for a tough autumn as the obstacles to her Brexit planning mount.

The first challenge comes from the European Union. Bloomberg's Birgit Jennen reports how the bloc's deputy Brexit negotiator, Sabine Weyand, this week told German lawmakers she's skeptical the two sides will be able to start crafting a trade deal in October as initially hoped. Her boss, Michel Barnier, will on Wednesday brief ambassadors from the 27 EU member states in Brussels.
Back in London the opposition Labour Party is seeking to block May's blueprint for a post-Brexit legal regime. Without a majority in Parliament, May is also vulnerable to rebels from her own Conservative side.
As the government tries to transfer 12,422 pieces of EU law on to the British statute book, Labour is challenging a proposal to allow ministers to revise some of the rules without full parliamentary scrutiny. Some Tories, including former Attorney General Dominic Grieve, have also expressed reservations about that.
If Parliamentary approval is required for each regulation, they risk being held up by constant roadblocks.
"Nobody has ever promised this will be simple or easy," U.K. Brexit Secretary David Davis told Parliament on Tuesday, drawing laughter from lawmakers who remember that many of those who backed Leave made the same argument.
Davis predicted spats with the EU over Britain's exit bill alone could last until 2019 and also suggested the EU would be the bigger loser if there was no deal. "There will be times when it is very stormy," he said.
As if that's not enough, May also has to contend with a leak of a draft plan for new immigration rules, which would end the free movement of workers on the day Britain leaves the EU and impose restrictions on all but highly skilled workers from the region. The 82-page document, obtained by the Guardian, said immigration should not just benefit the migrants but "make existing residents better off."
Brexit Latest
Science Paper | The government said it wanted to continue close collaboration with the EU in science and innovation after Brexit. A new "position paper," which will form the basis for future negotiations in Brussels, will be published Wednesday, setting out Britain's long-term vision for science, including space exploration and nuclear research. 
Drug Problem | AstraZeneca Chief Executive Officer Pascal Soriot said he's worried about the lack of progress over a future trade accord, which could impede sales of drugs in foreign markets. "So far, we don't have any idea how products will be shipped across borders," he said in an interview.
Swiss U-Turn | Swiss asset manager GAM is in talks to lease a new U.K. headquarters in London more than a year after it cancelled an agreement to switch offices in the capital because of Brexit.
Weak Growth | Britain's economy is failing to recharge after slowing sharply in the first half of the year. IHS Markit said its latest round of industry surveys suggest growth of about 0.3 percent this quarter, matching the pace of the previous three months. It published the forecast after its gauge of the services sector, the biggest part of the economy, indicated the slowest expansion in almost a year in August.

A Bigger Threat | The EU risks losing its allure and ultimately falling apart if it pursues plans to integrate member nations at different speeds, Polish President Andrzej Duda said. While the EU is preoccupied with the U.K.'s exit, its biggest problem would be leaving some countries behind in a "B-class," he said.
Research Wrap | Andrew Duff of the European Policy Centre writes how May's forthcoming speech on Brexit will be her "last chance to repair the damage" he says has occurred. In a report for The U.K. in a Changing Europe, academics Katy Hayward and David Phinnemore say Britain needs to do more to recognize the "unique needs" of the Irish in the talks. Mujtaba Rahman of the Eurasia Group says the U.K. will need to pay "for past obligations, not just future access to the single market."
On the Markets | The cheap pound is doing little to boost the appeal of British assets. There were 44 foreign acquisitions of U.K. companies in the second quarter, the fewest in almost two years, according to figures from the statistics office. The value of such deals fell to £2.9 billion pounds and was outstripped by disposals for the first time since 2002.

And Finally…
In a country better known for beer, Brexit is putting the squeeze on the wine industry.
Brexit is contributing to a "perfect storm" facing Ireland's wine retailers, the industry's representatives said on Tuesday.
"The uncertainty around the Brexit negotiations has resulted in the falling value of sterling which is likely to drive cross-border shopping and has already seen a fall in the number of British tourists visiting Ireland," said Jim Bradley, chair of the Irish Wine Association.
That industry is not alone in being worried. European Union Agriculture Commissioner Phil Hogan said there has been a 650 million euro loss in the value of Irish exports because of currency movements.
For more on Brexit follow Bloomberg on Twitter, Facebook and Instagram
Before it's here, it's on the Bloomberg Terminal.
LEARN MORE