U.K. Labour Party Will Try to Amend May's Brexit Legislation
By and
Party says it can't vote for EU Withdrawal Bill as it stands

Decision means May risks defeat over amendments to bill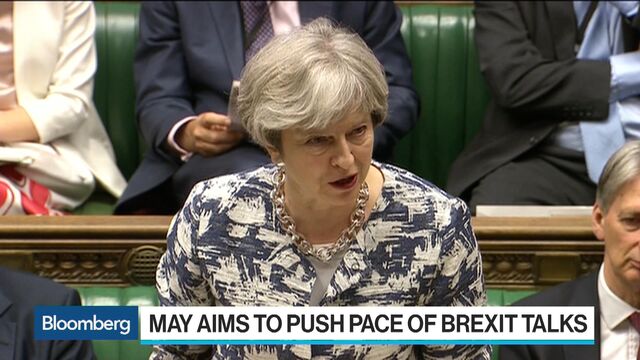 The U.K. Labour Party moved its opposition to Theresa May's Brexit strategy up a notch by saying it would try to amend her European Union Withdrawal Bill to change clauses that give ministers power to modify laws with little scrutiny.
The bill, which will be debated in Parliament for the first time on Thursday, is designed to facilitate the huge task of transferring four decades of European rules into British law, providing legal continuity on the day the U.K. leaves the EU. According to the House of Commons Library, that means over 12,000 EU regulations. To do that, the bill gives ministers the power to change aspects of EU law without full parliamentary scrutiny.
Labour said in a statement Tuesday that this is unacceptable, and that it would be unable to vote for the bill as it stood. As May has no majority in Parliament, she'd be vulnerable to rebels from her own Conservative side, and some Tories, including former Attorney General Dominic Grieve, have already expressed reservations about this aspect of the bill.
"We cannot vote for a bill that unamended would let government ministers grab powers from Parliament to slash people's rights at work and reduce protection for consumers and the environment," Labour said in a statement. "The government's EU Withdrawal Bill would allow Conservative ministers to set vital terms on a whim, including of Britain's exit payment, without democratic scrutiny."
May's spokesman, James Slack, insisted earlier Tuesday the powers in the bill aren't undemocratic.
'Basically Corrective'
"The correcting power will be time-limited to apply before the U.K. leaves the EU and for a limited period afterwards," Slack told reporters. "What we're talking about in terms of statutory instruments is basically corrective to ensure that the statute book can continue to function on the day that we leave the EU. Using these statutory instruments is the only way you can provide proper scrutiny and ensure our statute book is ready for exit day."
The first vote on the bill will be on Monday. A Tory revolt won't happen at that stage, according to another likely rebel, Anna Soubry. Amendments, where the government is more vulnerable, are likely to put forward at the committee stage, which follows the first vote.
Before it's here, it's on the Bloomberg Terminal.
LEARN MORE