Startup That Takes Apps Beyond Apple Climbs in London Debut
By
AppScatter helps developers reach alternative app stores

Shares gain as much as 16 percent in first day of trading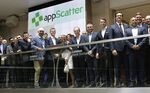 AppScatter Group Plc, a British start-up that helps developers distribute their apps beyond the traditional venues provided by Apple Inc. and Alphabet Inc.'s Google, jumped on its stock market debut Tuesday, gaining as much as 16 percent from the issue price.
AppScatter traded at 72.5 pence as of 12:12 p.m. U.K. time on London's AIM board for growth companies after selling shares at 65 pence apiece, giving it a market capitalization of about 46 million pounds ($60 million).
The company's platform allows developers to track their apps' performance across 50 stores selected from a pool of 300, helping them to determine which are the most profitable. Those on the list range from Tencent Holdings Ltd.'s MyApp, China's largest store, to lesser-known vendors like Mexico's Appsmania.
Developers that offer their apps in at least 10 additional stores can expect an increase in downloads of 200 percent to 300 percent, AppScatter's founder and Chief Executive Officer Philip Marcella, 53, said in a telephone interview. Almost half of global app downloads take place outside of Apple and Google's stores, he said.
AppScatter, whose 21 full-time employees and 29 contracted staff operate out of a WeWork shared office space in London's Moorgate area, will use the 7.8 million pounds net proceeds raised in the initial public offering to introduce a fully-public version of its platform. AppScatter has until now "cherry-picked" its clients although it has had as many as 8,000 business and users register their interest, Marcella said.
Part of the Eco System
The company's current clients include banks and insurance companies, such as Allianz SE, which often have dozens of unique apps, according to Marcella. "Fifteen percent of all publishers have more than 100 apps, and that's not the same app translated, it's different financial apps," he says. 
AppScatter has a first-mover advantage and little direct competition in alternative app store distribution and analytics, Edison Investment Research analysts led by Katherine Thompson said in a note, estimating revenue for the company of 3.3 million pounds in 2017, growing to 10.3 million pounds in 2018.
"We're complimentary, we're not competitive," Marcella said. While there are many tools to build and analyze apps, there are very few to distribute them, he said. "We like to think we're part of the eco system," he said.
Marcella doesn't fear the demise of applications as technologies advance. "There will always be applications as you'll always have programs that need running, although what they're called and how they're marketed may differ," he said. "Bots are just the same as apps, they just look less like applications."
Second IPO
AppScatter is Marcella's second technology company to list on the junior market. The entrepreneur, who began working as a computer programmer after leaving his Blackpool, northern England boarding school in the 1980s, previously created RMR Plc, a web-conferencing specialist that floated in 2000 and is now known as Gotech Group Plc.
He formed AppScatter in September 2015, acquiring Massachusetts-based AppScatter LLC, a company researching and testing apps on alternative app stores since 2013.
Reflecting on his enthusiasm for programming, the CEO recalls seeing his first software being distributed by retailer Dixons in his early years as a self-employed developer. "We weren't allowed computers in my school, so obviously when I left I wanted to learn more about them."
Before it's here, it's on the Bloomberg Terminal.
LEARN MORE