Challenging Trump's 'Dreamers' Decision Will Be an Uphill Battle
By , , and
Democratic AGs, ACLU, labor unions denounce Trump's decision

Obama gave reprieve to children of undocumented immigrants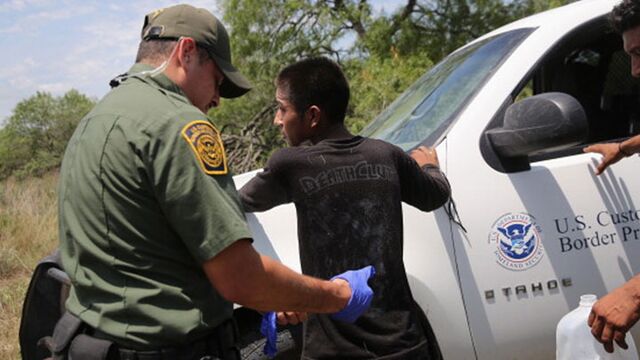 Democratic attorneys general and civil rights groups are exploring legal strategies to challenge President Donald Trump's decision to end a program that protects children who came to the U.S. illegally from being deported.
But unlike efforts to block Trump's ban on travelers from some Muslim-majority countries earlier this year, lawsuits to keep the so-called Dreamer program alive confront more challenging legal terrain. The reasons lie in the nature of presidential actions and in the status of those affected by them.
The administration will end President Barack Obama's 2012 policy directive, formally known as Deferred Action for Childhood Arrivals, in six months, U.S. Attorney General Jeff Sessions said Tuesday. Sessions called the former president's initiative an "unconstitutional exercise of authority by the executive branch."
The window will give Congress time to pass legislation to protect Dreamers, should it choose to do so. "This is not a little matter," Sessions said. "Ending the previous administration's disrespect for the legislative process is an important first step" toward crafting new national immigration policy.
New York Attorney General Eric Schneiderman and his New Mexico counterpart, Hector Balderas, issued pre-emptive statements on Monday, in which they vowed to fight for DACA. Both men are Democrats.
"I will sue to protect them," Schneiderman said. "Dreamers are Americans in every way. They played by the rules. They pay their taxes. And they've earned the right to stay in the only home they have ever known."
Balderas, the only Latino elected attorney general in the U.S., said his office will use "all means necessary to push back."
'Stigmatizing Language'
DACA beneficiaries wasted no timing pursuing legal remedies too. In a filing in Brooklyn federal court made within two hours of Sessions' announcement, DACA holders claimed the administration's actions violate their Fifth Amendment rights to equal protection because it was motivated by Trump's and Sessions's discriminatory intent toward Latinos.
Jonathan Batalla Vidal, who crossed the U.S. border about 20 years ago when he was 7, said in a press conference that Trump spoke with "hateful and stigmatizing language" during his presidential campaign and as president. His attorneys argued the administration must provide a "reasoned explanation" for its action.
"It violates federal statutes by arbitrarily and capriciously revoking a long-standing policy without reasoned explanation," said David Chen, a law student intern at Yale Law School.
DACA enabled those who came to the U.S. illegally as children to apply for permission to remain and to work lawfully for two years, provided they didn't have a serious criminal record and were in school or had obtained a degree. Once granted, that status could also be renewed, but it didn't provide a path to legal permanent residency or to citizenship.
Trump's travel bans, issued in January and March, were formal executive orders aimed at people seeking legal entry to the U.S. and were halted in part because judges concluded that Trump's comments suggested they were discriminatory. By contrast, Trump has made sympathetic remarks about Dreamers. In addition, Obama's deferred action plan was a provisional directive given to the Department of Homeland Security on how its agencies should deal with people already in the country whose arrival was illegal.
"Trump clearly has the legal authority to nullify DACA," said Peter Spiro, an immigration law professor at Temple University who supports DACA. "That's the problem generally with executive action -- what is done by one president can be undone by a successor. Live by the sword die by the sword."
'Quasi-Legal Status'
Cornell University law professor Stephen Yale-Loehr said DACA was a stop-gap way to prioritize who would be put into deportation proceedings while Congress took up the issue of immigration reform. Dreamers were left with "sort of a quasi-legal status," he said.
While some have now been under DACA's protection for five years, the anticipated legislation by Congress never passed. That leaves Dreamers vulnerable to a subsequent presidential policy reversal, Yale-Loehr said. It also leaves Dreamers who mount legal challenges to Trump -- based on commitments made on the assumption that DACA would continue -- subject to a judge's finding they should have known it could be easily undone.
Hans von Spakovsky, a lawyer at the conservative Heritage Foundation, said any lawsuit against Trump is doomed because only Congress has the power to grant the kind of privileges that DACA gave to some undocumented immigrants. He notes that a similar program, the Obama administration's Deferred Action for Parents of Americans and Lawful Permanent Residents, was overturned by a federal appeals court, a point that Sessions also made in his remarks Tuesday.
"They may find some very liberal activist judge who might rule against Trump, but by the time this gets to the Supreme Court the government is going to win," von Spokovsky said in a phone call.
Kansas Secretary of State Kris Kobach, a Republican who spoke out against DACA, said last week that the program essentially orders federal agents to ignore the law and is therefore "indefensible as a legal matter."
"It's crystal clear that DACA violates not one but three different federal statutes, so it really has no legal path forward," Kobach said. "It can't survive."
— With assistance by Patricia Hurtado
Before it's here, it's on the Bloomberg Terminal.
LEARN MORE