Merkel Hit by Tomato in Latest Campaign Rally Unrest, DPA Says
By and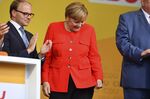 Police are investigating after German Chancellor Angela Merkel was hit on the left hip by bits of a tomato during a campaign stop, an unusually rough moment in a campaign that has been punctuated by occasional vociferous protests.
Two tomatoes were thrown, one splattering moderator Claudia von Brauchitsch at the rally in Heidelberg, a university city in southern Germany, Germany's DPA press agency reported. Merkel appeared unruffled by the incident and offered von Brauchitsch a tissue.
The incident came during Merkel's first campaign stop of the evening, a 40-minute outdoor rally that drew about 3,000 people to Heidelberg's University Square. A small group of protesters on the edge of the crowd jeered and blew whistles, calling Merkel a "liar" and "betrayer of her people."
The German chancellor has faced down demonstrators in previous campaign events, defending her open-borders refugee policy and saying that right-wing protesters "can only shout."
Afterward, Merkel went on to Stuttgart for a panel discussion at which she said German carmakers must recognize their own faults in the diesel scandal.
Her trademark blazer appeared intact. According to DPA, she wore the same outfit at the second event.
Before it's here, it's on the Bloomberg Terminal.
LEARN MORE