Dr. Copper's PhD in Question as Rally Starts Looking Stretched
By
Role as market barometer in doubt as trader positions grow

A shift in speculation could trigger volatility: AXA's Tinker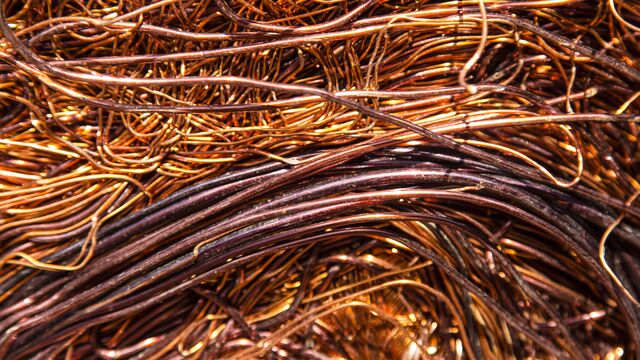 Dr. Copper's role as a bellwether for the global economy is increasingly under scrutiny.
The orange metal has climbed about 26 percent since early May amid robust Chinese demand and as some of the biggest mines suffered production interruptions. The question facing investors is whether gains are still being driven by demand -- which would indicate growth is gaining momentum -- or by speculators riding the trend, which would suggest the rally is no longer reflective of economic fundamentals.
A growing number of analysts and commentator point to the latter. These charts explain why.
Leading the way
A quick look at the last 30 years shows how copper got its reputation for leading global economic activity. With most economists expecting global growth to pick up in the next few years, some the metal's rise so far in 2017 may be justifiable. But the price action may have outstripped fundamentals, according to analysts including Rachel Ziemba at Roubini Global Economics. The global investment cycle is still moderate and the overall fundamental outlook for copper doesn't seem to have changed much, they said.

Decoupling from yields
Having mirrored the rise and fall in bond yields from November, as the so-called reflation trade peaked and troughed, the relationship between copper and Treasuries broke down last month. There is no sign yet "Dr. Copper" is being affected by the decrease in growth expectations implied by the fall in yields. This divergence could relate to Chinese speculation in commodity markets as domestic liquidity continues to seek a home, according to Chris Watling, chief strategist at Longview Economics, an independent research firm.

Speculators take over
The percentage of speculative positioning in the copper futures market has grown steadily over the past 20 years. The reality is there are no long-term buy-and-hold investors in these commodity markets, only traders and speculators, according to Mark Tinker, head of AXA Framlington Asia. Any shift in speculation could trigger a sharp spike in volatility and become "extremely painful, extremely quickly", given the leverage in these markets, he said in a recent note to clients.

Warning signs
An analysis of speculative positioning shows it to be at extremely bullish levels historically. Net long-copper futures bets from non-commercial traders recently rose to the highest since February. Speculative financial investors often act in a highly pro-cyclical fashion and are positioned too optimistically when prices come close to peaking, according to Commerzbank AG strategists including Eugen Weinberg. Prices have become largely detached from the fundamental data and the potential for a correction is increasing every week, they wrote. In the past, such extreme positioning has frequently sparked a price countermovement, they said.

Other base metals
Copper is not alone in its bull run this year; in fact, it is not even the best-performing base metal. China-related factors triggered both the sharp price retracements of all base metals during April to May, and the strong rebound in June to August, Citigroup Inc. said in a recent note. For copper traders, global visible inventories remain key to watch for copper traders, it said. However, demand conditions in China are slowing and will continue to slow, according to Barclays Plc analyst Dane Davis. The market is over-reacting to short-term conditions and ignoring several warnings signs, he said.



— With assistance by Sid Verma
Before it's here, it's on the Bloomberg Terminal.
LEARN MORE