Astra's Soriot Says Slow Pace of Brexit Talks an Area of Concern
By
"There's no clarity in terms of trade," Soriot says

EU official said she doubts trade talks will start next month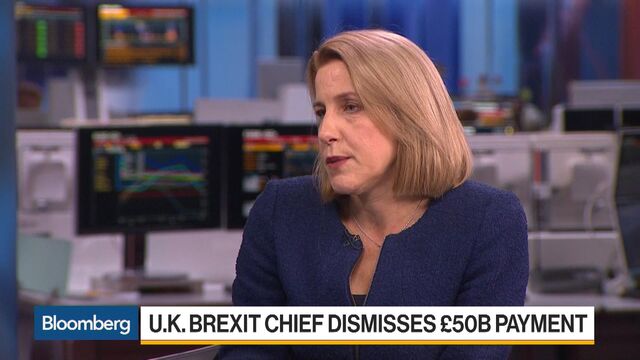 AstraZeneca Plc Chief Executive Officer Pascal Soriot said the lack of progress in negotiations between the U.K. and the European Union on their future ties is worrying, and could hinder the drugmaker's exports to foreign markets after Brexit.
"So far, we don't have any idea how products will be shipped across borders," Soriot said in an interview Monday. His company, the U.K.'s second-biggest drugmaker, sells medicines ranging from Crestor cholestrol pills and acid reflux drug Nexium to cancer treatment Zoladex across the world. "There's no clarity in terms of trade."

The government will find it "impossible" to resolve all the issues -- including forging new agreements with its trading partners and establishing a regulatory framework and new administrative procedures for moving companies' products to other countries -- by the time it exits the EU in 2019, Soriot said. The 64 billion pound ($82.7 billion) life sciences industry, which employs almost 235,000 people in the U.K., is one of five that has been recognized as vital to the economy by Prime Minister Theresa May's administration.
"Logically, we'll have to accept at some time that more time is needed," Soriot said of the Brexit discussions. The various issues facing the government "cannot be resolved in the next year and a half."
May's Brexit planning suffered multiple blows this week as a top European Union official said she doubted that trade talks will start next month, while the opposition Labour Party said it will seek to block key legislation. The U.K. leader also has to contend with a leak of a draft plan for new immigration rules, which would end the free movement of workers on the day Britain leaves the EU, and impose restrictions on all but highly skilled workers from the region.
Worst Case
Pharmaceuticals are sometimes afforded a special place in trade pacts and can be exempted from restrictions at times. Still, negotiations between the U.K. and EU on the terms of the withdrawal have been contentious, leading to concerns that a trade deal may be delayed.
In a worst-case scenario, "we don't have a clue how we deal with all these countries that the U.K. has no trade agreement with," Soriot said. "That's unlikely to happen, hopefully."
A government-commissioned report released last week on the health care sector also recommended that the U.K. take steps to attract world-class researchers to its companies and institutions. Scientists have been coming from countries outside Europe to work in the U.K. for decades, and Brexit probably won't change that, Soriot said. Uprooting the European Medicines Agency for a location within the EU can also be managed by the government and pharma companies, he said. 
"Right now, everyone is sort of positioning themselves," Soriot said. "It's like poker play, really."
Before it's here, it's on the Bloomberg Terminal.
LEARN MORE