This Currency's Sudden 50% Devaluation May Attract Bargain Hunters
By
New president of ex-Soviet nation taking steps to reform

Uzbekistan puts soum's official rate in line with black market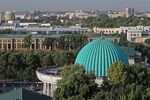 Nine months after his election, President Shavkat Mirziyoev put Uzbekistan on investors' radar.
A 50 percent devaluation late Monday knocked the official rate of the soum from 4,210.35 per dollar to 8,100, setting the Central Asian nation's currency on track for the biggest drop globally this year. Days before, Mirziyoev had signed a decree allowing citizens to buy and sell hard currency and removed the requirement that exporters sell their earnings at a knock-down official rate.

"The reform heralds the government's genuine commitment to attracting foreign investment," said Kate Mallinson, associate fellow for the Russia and Eurasia Programme at Chatham House in London. "Currency convertibility has been the most problematic issue for foreign investors in Uzbekistan over the last two decades."
A slowdown in China and a plunge in the currencies of Russia and Kazakhstan in 2015 -- Uzbekistan's biggest export markets -- have weighed on the nation's economy, which is dependent on commodity exports and remittances. After 25 years under Mirziyoev's predecessor, Islam Karimov, Uzbekistan is ranked 156th out of 176 countries in Transparency International's 2016 corruption perception list.
"Excessive" currency regulation has inhibited foreign investment and led to an "inefficient system of privileges for individual industries and entities, unequal business conditions and violations of market competition," according to Mirziyoev's decree.
Here's what economists and strategists are saying about the sudden shift in the former Soviet Republic's policy.
Chris Weafer, a partner at Macro Advisory in Moscow:
"Uzbekistan, a country of 30.5 million people which has been closed to the outside world for over 100 years, is one of the few remaining investment locations with significant potential."

"This is a big step in placing Uzbekistan on investors' radar. The previous currency regime was too restrictive and far too opaque for investors and, therefore, a reason for most simply not even to consider investing in the country."
Oleg Kouzmin, economist at Renaissance Capital in Moscow:
"The decision is an important step in the direction of FX regime liberalization. It helps the reduce extreme disparities between official and 'grey market' exchange rates that were witnessed in Uzbekistan in the previous years."

"Uzbekistan's currency has now devalued more than the major regional currencies. We see certain changes in Uzbekistan after the change of political leadership, some kind of reforms, and the recent currency move could be considered another step in this direction."

"Economists generally love to see devaluations -- one of the things than makes them different from politicians -- devaluation always gives the country a chance for a fresh start."
Kate Mallinson from Chatham House:
"In the short term, the liberalization of the dual currency system could create some negative ripples in the economy including stimulating inflation, but not hyperinflation. On the positive side, it will reduce the government's regulation of financial flows and provide a fillip to the private economy."
— With assistance by Marton Eder
Before it's here, it's on the Bloomberg Terminal.
LEARN MORE