Yuan's New Role as Haven Is Last Great Hope for Dim Sum Debt
Bloomberg News
Offshore currency rose 14 days through Monday in record rally

Uptrend will help overseas yuan bond market, says BOCI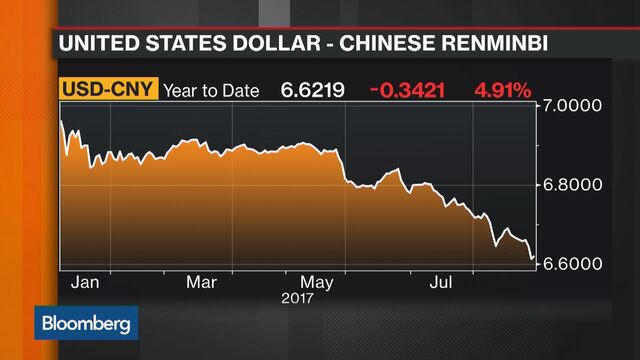 A record rally in the offshore yuan is rekindling hope for the Dim Sum bond market.
With China's currency defying North Korea tensions to be Asia's top performer over the past month, that bodes well for yuan-denominated debt sold in Hong Kong, according to BOC International Holdings Ltd. The Dim Sum market has been under pressure since 2015, when the shock yuan devaluation rattled global markets and shattered one-way appreciation bets, and issuance is set to dwindle to the least in seven years.
Now, it seems like officials have turned to Dim Sum friend from foe. The offshore yuan advanced for 14 days through Monday, the longest run of gains in Bloomberg-compiled data going back to August 2010, amid speculation that policy makers will buoy the currency in the run-up to a key Communist Party meeting on Oct. 18. A new and surprising twist: that premise of government support is positioning the yuan as a recipient of haven flows from investors rattled by the escalating tension between the White House and Pyongyang.
"It looks like the yuan uptrend or at least stabilization will be able to continue, and this will help the offshore yuan bond market," said Wu Qiong, a Hong Kong-based analyst at BOC International Holdings Ltd. "Issuers are closely watching the changing relative cost between onshore and offshore."
Stability is the most important concern for policy makers before the 19th Party Congress next month, said Kenix Lai, a Hong Kong-based currency analyst at Bank of East Asia Ltd. Based on this expectation, the market may treat the yuan as a safe-haven currency, she added.

Sales of yuan bonds outside China have fallen to 27 billion yuan ($4.1 billion) so far this year, or less than 10 percent of 2014's record 297 billion yuan, data compiled by Bloomberg show.
For a report on Panda bonds' effect on Dim Sum debt, click here
In the medium term, the Dim Sum bond market will continue to grow together with the yuan's internationalization, said Raymond Gui, senior portfolio manager at Income Partners Asset Management (HK) Ltd.
The yuan's turnaround in 2017 -- after a three-year drop -- has come amid a combination of broad dollar weakness, capital controls and a rebound in economic momentum. Hong Kong's yuan deposits posted their first quarterly increase in two years in the three months through June, and extended the advance in July to 534.7 billion yuan.
The offshore yuan fell on Tuesday, dropping 0.4 percent to 6.5562 per dollar in Hong Kong to end an unprecedented 14-day rally. The onshore yuan declined 0.2 percent in Shanghai.
"Attitudes toward the currency have been overly bearish -- none of the gloom/doom forecasts has come to pass," said Edmund Harriss, a London-based fund manager at Guinness Asset Management Ltd., which has $1.3 billion assets under management.
— With assistance by Helen Sun
Before it's here, it's on the Bloomberg Terminal.
LEARN MORE