Novartis CEO Jimenez to Quit, Giving Reins to Harvard Doctor
By and
Narasimhan to take the helm at European drugmaker from Feb. 1

Jimenez reshaped company with asset swaps, planned divestments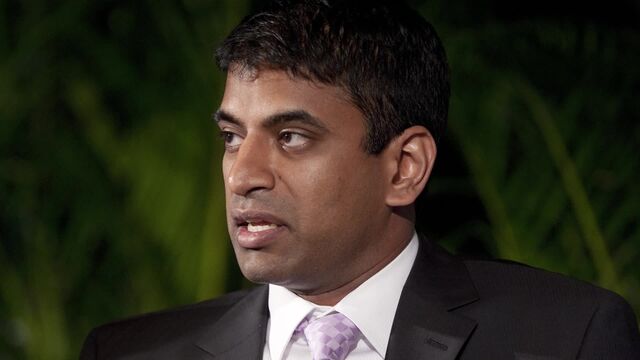 Novartis AG announced the surprise departure of Chief Executive Officer Joseph Jimenez after eight years at the helm of Europe's largest drugmaker, handing off the challenge of selling underperforming assets and developing new medicines to a Harvard-trained doctor.
Vasant Narasimhan, 41, chief medical officer and global head of drug development at the Basel, Switzerland-based company, will succeed Jimenez from Feb. 1, Novartis said in a statement on Monday. Jimenez, 57, who will retire at the end of January, said his family is ready to return to Silicon Valley after spending 10 years in Switzerland.

Jimenez is handing over the reins at a crucial juncture, with the drugmaker yet to make a decision on the future of its ailing Alcon eye-care business or its stake in crosstown rival Roche Holding AG. The former H.J. Heinz Co. executive reshaped Novartis through a series of complex transactions worth more than $30 billion in 2015. Last week, the company secured U.S. regulatory clearance for a $475,000 breakthrough oncology therapy, a triumph for both Jimenez and Narasimhan.
"I've been CEO for eight years and I've been pretty public about the fact that I didn't think a CEO should stay much longer than that," Jimenez said on a call. "You come in, you see what you want to change, you change it, and then it's time to pass it on to a successor."
Shares of Novartis fell 0.7 percent to 80.25 Swiss francs as of 12:11 p.m. in Zurich trading. During Jimenez's tenure, the stock returned 8.8 percent annually, compared with a 13 percent annual return for the Bloomberg Europe Pharmaceutical Index.

Jimenez, who began his career at Novartis with no scientific background, in July reiterated his confidence in returning the Swiss drugmaker to growth next year. His 2015 asset swap saw Novartis offloading vaccines and adding GlaxoSmithKline Plc's mature cancer drugs, as well as the formation of a joint venture to sell consumer health-care products. The company is currently reviewing options including a spinoff or initial public offering for the Alcon division.
Narasimhan, an American citizen of Indian origin, is the youngest among a group of new chieftains at global pharmaceutical companies: Emma Walmsley, 48, in April took the helm at London-based GlaxoSmithKline Plc, becoming the only woman to run one of the world's largest drugmakers. Over in the U.S., David Ricks, 50, became CEO of Indianapolis-based Eli Lilly & Co. on Jan. 1.
Prior to his current role, Narasimhan served as head of development for Novartis Pharmaceuticals. Before joining the company in 2005, he worked at McKinsey & Co. He received his medical degree from Harvard Medical School in the U.S. and obtained a master's degree in public policy from Harvard's John F. Kennedy School of Government. He holds a bachelor's degree in biological sciences from the University of Chicago.
Novartis's board conducted "a thorough evaluation of internal and external candidates" with help from an executive search firm, Chairman Joerg Reinhardt said.
'Highly Regarded'
Narasimhan's expertise in clinical development and medicine make him well suited to run Novartis, especially during the ongoing review of Alcon's operations, according to Vincent Meunier, an analyst at Morgan Stanley in London.
He "is highly regarded as chief medical officer and has had increasing exposure to investors over the past few quarters and company events," Meunier wrote in a note to clients. "We believe that Vas Narasimhan will bring the skills and leadership to
tackle Novartis' challenges."

Jimenez said his children have grown up and moved back to California, prompting his decision to follow them. His home state also provides great opportunities to pursue his interest in the intersection between biology and technology, he said.
No Golf
"You can probably imagine I'm not going to play golf," he told reporters on a conference call on Monday. Jimenez declined to comment on when he told the board of his desire to step down.
The time was right to step down because Novartis is about to enter a new phase of growth beginning next year, when the company will have felt the full effect from the patent expiration for Gleevec, its best-selling cancer treatment, the CEO said.
"Whether the current strategy is on track, though, and whether Novartis can deliver on its ambition to grow its pharma top line despite continuing patent expiry headwinds, remains to be seen," Michael Leuchten, an analyst at UBS Group AG, said in a note to clients. "Novartis continues to face commercial challenges as the world has changed."
New Medicines
The company is turning to newer medicines such as heart drug Entresto, psoriasis treatment Cosentyx and Kisqali for breast cancer to help counter a decline in sales of Gleevec, which is losing ground to cheaper copycat drugs. Novartis's revenue peaked in 2011 and has been declining since as the hypertension treatment Diovan and Gleevec were hit by generic competition. Reinhardt said that had nothing to do with the decision to change CEOs, which he said was driven by Jimenez's desire to step down.
The patent expiry of top-selling drugs "was a difficulty that had to be mastered," Reinhardt said. "Joe had made quite significant steps forward in leading the company through a difficult phase."
Jimenez in July pointed to early signs of a revival at Alcon, which strengthens his hand as he considers an exit from the ailing business. Earlier this year, Novartis said that it was reviewing all options for the division, and would provide an update by the end of the year, with the business potentially commanding a valuation in the range of $25 billion to $35 billion. The CEO reiterated that timeframe today.
— With assistance by Kanoko Matsuyama, and James Paton
Before it's here, it's on the Bloomberg Terminal.
LEARN MORE