Nickel Prices Leap to Highest Level in Over Two Years
Thomas Biesheuvel
Stronger economic data in the U.S. and China has helped metals

Commerzbank warns speculation may have pushed prices too high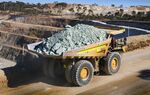 Nickel climbed to a two-year high and copper extended gains to the highest since September 2014 as bets on tighter markets, especially in top user China, buoyed metals after their longest run of weekly gains in a decade.
Nickel advanced as much as 2.9 percent to $12,380 a metric ton on the London Metal Exchange, its highest since June 2015. Copper climbed as much as 1.3 percent to $6,924 a ton. Most metals rose after the LME Index of six contracts capped an eight-week advance on Friday -- one short of a record run in 2006.

Industrial metals have been lifted by sustained demand growth and restrained supply. In China, environmental inspections and planned anti-pollution curbs on steel and aluminum have also stoked expectations of shortages. Gains are also being fueled by a weaker dollar and a super-charged steel market in China that's steering sentiment for other commodities.
"It certainly feels like there is a broad resetting of expectations that are driving the metals at the moment," Daniel Hynes, senior commodities strategist at Australia & New Zealand Banking Group Ltd., said by phone from Sydney. "I was in China last week and I got the very strong impression that the environmental push is having a pretty profound impact, and that's not something that's going to fall away quickly."
Nickel climbed 1.8 percent to settle at $12,250 at 5:51 p.m. on the LME, while copper gained 1.2 percent to settle at $6,917. Tin and zinc also rose, while aluminum and lead fell.
Miners Benefit
Mining companies are gaining from the metals surge, with the Bloomberg World Mining Index of shares rising for an 11th day to the highest since September 2014. Glencore Plc and Anglo American Plc are trading near the highest since 2014. U.S. equity markets were closed for the Labor Day holiday.
While Commerzbank AG cited surprisingly strong manufacturing data in both China and the U.S. for higher metals prices, it cautioned that the gains may be overdone.
"Apart from the good sentiment indicators, however, prices continue to be driven to a large extent by speculation," Commerzbank said. "Prices have become largely detached from the fundamental data. In our opinion, the potential for and possible extent of a price correction are increasing every week."
— With assistance by Martin Ritchie, and Susanne Barton
Before it's here, it's on the Bloomberg Terminal.
LEARN MORE