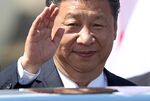 As Chinese individual investors tip back into stocks two years after the market rout, they're applying one lesson learned in 2015: buy what's close to Beijing's heart.
Purchasing stakes in state-owned enterprises is the way to go. Of the about 3,000 companies listed in mainland China, the largest government firms have returned an average 11 percent since January, data compiled by Bloomberg show. Regional SOEs have gained 5.9 percent, while you'd be under water if you'd bought into some of the nation's private corporations.
It's helped push the CSI 300 Index, a benchmark of the largest mainland-listed stocks, up 16 percent this year, beating the broader Shanghai Stock Exchange Composite Index at 8.7 percent and the Shenzhen Composite Index, which is down 1 percent.

A similar picture emerges if you look at the relative value of companies that are traded in both Shanghai and Hong Kong. Dual-listed firms' Shanghai shares are now 30 percent more expensive, versus a 14 percent premium in March. It's all the more startling considering that Hong Kong's benchmark Hang Seng Index has surged 28 percent this year.
A Gadfly analysis of the 100 dual-listed Chinese companies shows that since the start of a trading link between the Shanghai and Hong Kong exchanges in November 2014, the valuation gap has widened most for industrial firms set to be key beneficiaries of President Xi Jinping's One Belt, One Road initiative. Energy majors like PetroChina Co. and China Coal Energy Co. are also faring well.

When it comes to One Belt, One Road, investors are betting on Xi soft power.
In the first six months, overseas revenue at China Communications Construction Co. accounted for just 22 percent of the total, and an even smaller 5.5 percent at China Railway Group Ltd. That hasn't stopped investors from pushing their shares up 131 percent and 83 percent respectively since late 2014, despite anemic top-line growth. Investors in Hong Kong, where there is a greater proportion of institutional players, are more skeptical.

China's stock markets have recovered nicely from the 2015 rout: The CSI 300 Index has returned almost 50 percent in dollar terms since the People's Bank of China cut rates in November 2014.
How long this Xi put rally can last will be interesting to watch.
Before it's here, it's on the Bloomberg Terminal.
LEARN MORE